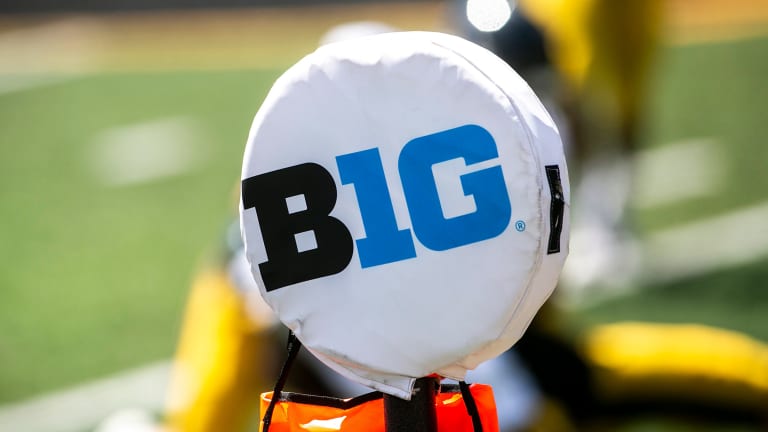 New Year's Resolutions: Big Ten Edition
Edition two of our New Year's resolutions and we land in the Big Ten today. The only conference with 2 CFP teams had one great division and one division that, semingly, no one wanted to win. The ACC will be up tomorrow.
East
Michigan
Michigan hasn't put a foot wrong all season which makes them one of the few teams who isn't looking ahead to 2023. The Wolverines resolution is simple: win 2 more games. A semifinal matchup with TCU and a title bout with either Georgia or arch rival Ohio State are what stands between a first national title in 25 years. Michigan has the best OL in the country, a devastating run game, and a defense who's given nearly everyone fits. This team has all the pieces in place and will give anyone a game. Only 120 minutes separates them from glory.
Ohio State
Buckeye fans resolve to stop the counter in 2023. No, not the run play. The Game counter, as of this publishing date it's been 1,123 days since the Buckeyes beat Michigan. There's little else that will matter to them next season, as their superior talent and top notch coaching will get them very far. Another good 2023 season looks inevitable, but we all know the ridiculous scrutiny Ryan Day was under for going 11-1 and losing the Game. That being said, could the counter possibly stop in a national title matchup?
Penn State
Improved play in the trenches, and that's being critical. Penn St. was quietly a top 10 football team this year. Both losses came to teams in the CFP, they had top 10 units on defense and special teams, and won every game they were supposed to win. If QB of the future Drew Allar is ready next year and they replace the losses on defense, it should be another stellar season in Happy Valley. They were definitely better than most on the OL and DL, but these units were clearly second best in the losses to Michigan and Ohio State. These are the games which make PSU's season, this is a solid ball club and improving in these areas might get them over the hump of being a good team, but only third best in their division.
Maryland
Find a run game and continue the improvement on defense. For a 7-5 team, Maryland was actually salty on defense and improved. The Terps' run game could be huge for them though because Taulia Tagovailoa has constantly battled injuries and in a pass heavy offense that has led to them getting blown out a few times. Being able to shift some of that burden to the ground could make Mike Locksley's crew more well rounded.
Michigan State
Mel Tucker can turn that defense around. The Spartans had the 75th ranked D this year, not something that will please Tucker. Finding some NFL caliber standouts to build that side of the ball around has always been Tucker's bread and butter. Getting back to that could rehabilitate his image after a down year and make them feel better about his massive contract.
Indiana
That we bring the covid season back. Indiana may be the only place in the world who fondly remembers the pandemic. The Hoosiers went 6-2 in 2020 with wins over ranked Penn St., Michigan, and Wisconsin with only losses to Ohio St. and Ole Miss in the Outback Bowl. Tom Allen will be on the hot seat and will be longing for the days of constant testing, not knowing if guys would play, and everything we got in that whacky season.
Rutgers
A sense of identity. Rutgers seems to not know who they are and what direction they're headed in, they need to figure this out. Greg Schiano was outstanding there in his first go around but he's not been able to replicate it. They were terrible on offense this year, average on defense, and had one of the best punters in the nation. Deciding how they want to play, recruiting for that, utilizing the portal, and just not being an also ran should be the goal for the Scarlet Knights.
---
West
Purdue
Manage the change. The old adage goes "you manage change or it manages you." The Boilermakers will have tons of change. Jeff Brohm has gone home to Louisville and highly regarded Ryan Walters has come in after a successful stint as DC for Illinois. He was highly sought-after by many programs and was a home run hire for the Boilermakers. On the field, Aiden O'Connell departs and Hudson Card comes in via the portal from Texas. These are big changes that affect the entire structure of the team. Walters and his staff need a plan that can be executed if they want to repeat as West champions.
Illinois
Illinois' resolution will be to finish the season strong. Bret Beilema's crew could have the Illini's first 9 win season since 2007 but they really should have won the West. They seemed destined for Indy before consecutive losses to Michigan St., Purdue, and Michigan cost them that accolade. They had the top scoring defense in the FBS and top 5 overall P5 unit but replacing Chase Brown and, probably, bringing in a QB through the portal are necessities to avoid the offensive woes and devastating losing skids.
Iowa
Kirk Ferentz should resolve to have an offense that is, at minimum, mediocre. The Hawkeyes had, statistically, the #1 ranked defense in the nation and were #4 in special teams. The offense, however, was further down the list at #120. If they can continue to dominate on D and specials, they usually do, and have an adequate offense, they'll be a contender in the West. The addition of Cade McNamara through the portal should go along ways in helping this.
Minnesota
That the Gophers can take that next step. PJ Fleck has brought success, stability, and enthusiasm to Minnesota in a place where it was sorely needed. They have become a consistent 7-8 win a year team, but they're getting to a point where that isn't enough. Fleck has raised them up, but he will become a victim of his own success if a 10 win season or a trip to Indy doesn't happen soon. Replacing Tanner Morgan, Gopher QB since the Cold War, and standout RB Mo Ibrahim will be vital.
Wisconsin
The Badgers should resolve to mesh the old ways with the new. The Barry Alvarez way has served them well for nearly 30 years, a complete overhaul isn't needed. A strong run game led by a burly offensive line is good for anyone, Luke Fickell included. But Luke will also have his own ways, ways that have been extremely successful. Some of the Wisconsin ways have gone stale and need a reboot, he might just be the guy to do it.
Nebraska
 A fan base that is, well, less "Nebraska-y." They think every coach needs to be as good as Dr. Tom, they run off guys who win over 70% of their games, then the golden boy returns home, where he only played 2 seasons in college, and they let him stay 2 years longer than they should have. Be realistic, give Rhule time, understand the state of your program and where you stand in college football. Have hope, have expectations, but have a level head in doing so.
Northwestern
Hope that in 2023 Northwestern can repeat going undefeated on a continent. The Wildcats, undefeated in Europe in 2022, will look to match the feat in North America in 2023. Pat Fitzgerald usually has a banger of a season every few years, will next season be another one?