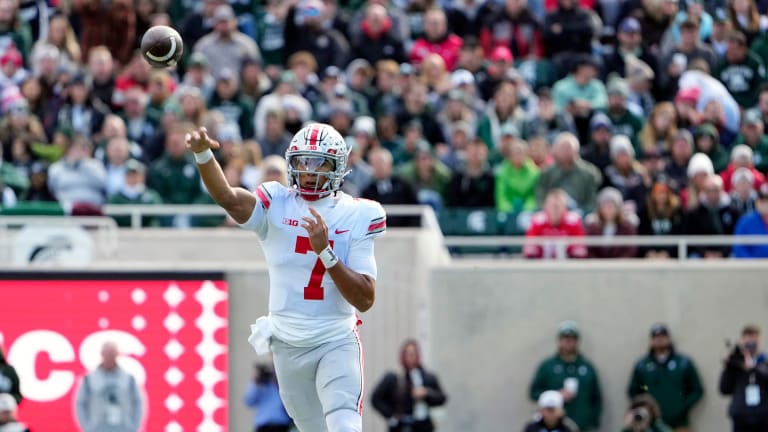 "Pass Happy" Valley?: Why the Pass Game is Key to an Ohio State Victory Against Penn State
Though the Wolverines showed a blueprint on how to run on Penn State, Ohio State must pass at will to win Saturday.
On the heels of a 54-10 win over Iowa, which was met with adversity early on and more of the same offensive dominance to end it, Ohio State now looks towards its toughest test yet: Penn State. Recent history between these two has included a Penn State upset in 2016, two 1-point victories in a row for Ohio State in 2017 and 2018, and a few two score contests. Ohio State has been the winner of the last five meetings. 
CJ Stroud enters the toughest environment in college football in hopes to not only keep his Buckeyes undefeated, but also to prove hostile environments aren't too much for him since his last time in one ended in a loss to arch-rival Michigan. He also looks to add a "Heisman Moment" type of game to his Heisman resume.
This is a must win all around for Ohio State. And the best way for the Buckeyes to win is going to be to air it out against the Nittany Lions. 
Currently, Penn State ranks 79th in the country in passing yards allowed, giving up an average 232.9 passing yard per game to opposing offenses. Before the debacle against Michigan, the Nittany Lions were a top-five rush defense in the nation. So while they made a precipitous drop to 62nd after the whooping they took on the ground, the best way for the Buckeyes to move the ball and put up points is going to be through the air.
For starters, the plan for now is for Jaxon Smith-Njigba to play according to Ryan Day. After only catching one pass for seven yards against Iowa in his limited first game back from injury, he will almost certainly be hungry to exploit Penn State's defense. Then you add the usual suspects at wide receiver in Marvin Harrison Jr., Emeka Egbuka, and Julian Fleming. We haven't gotten to see all four receivers truly on the field at once for Ohio State yet this year, but one has to believe it would be the closest thing to Thanos using the Infinity Gauntlet for the Buckeye's pass game. The return of Smith-Njigba could result in diminished targets for the other receivers, most notably Fleming, but Stroud will most likely spread things out relatively evenly.
While Penn State's pass defense is ranked relatively poorly, their secondary is a strength for them. It all starts with CB Joey Porter Jr., who is fourth in FBS in pass breakups with 11. They also have safety Ji'Ayir Brown, who has 41 tackles and three interceptions on the season. They are a far better group than what showed in week 1 against Purdue, so Ohio State will have to be ready. 
However, Penn State hadn't played a great rushing offense until Michigan and got rolled for 400+ rush yards. The same could be said for Ohio State and their passing attack. This matchup will ultimately decide not just the winner, but if this contest is close or not. As they proved against Iowa later in the game, once the Ohio State offense finds your weakness, it will exploit it at will. 
And the end of the day, the Buckeyes' success lies firmly upon the shoulders of CJ Stroud and his ability to adapt to what he sees Penn State doing. Will he crumble to another hostile environment? Or will he have his Heisman Moment by dismantling Penn State? Saturday at Noon will answer those questions and more and inevitably shape the rest of the 2022 campaign for Ohio State.