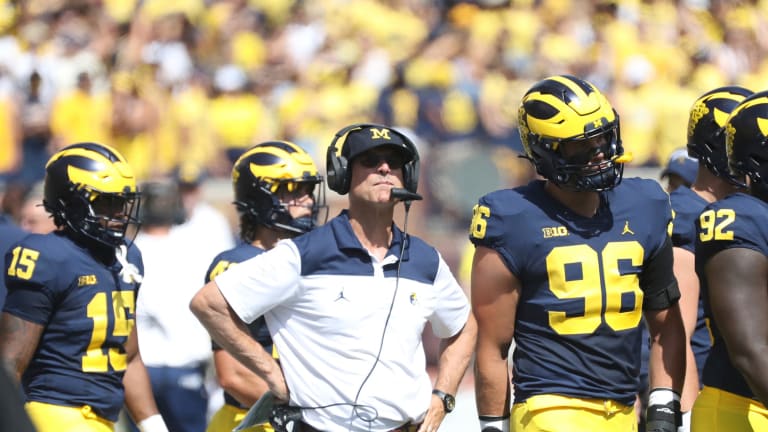 Potential Matt Weiss Replacements at Michigan
Who'll be Michigan's next Offensive coordinator and QB coach?
Michigan Co-offensive coordinator and QB coach Matt Weiss has been unceremoniously fired by the Wolverines after allegations came forward against him by university and Ann Arbor police regarding computer access crimes, which I will not go further into. This does create one of the biggest assistant coach openings in America and one which Jim Harbaugh will not be short of potential candidates. Here are five who would make sense.
---
Sherrone Moore
Co-Offensive Coordinator and Offensive Line Coach, Michigan
Wait, isn't Moore already there? Well, he is but I want to elaborate on this situation. I am speculating on offensive coordinator and I think there is a very realistic possibility that Moore becomes the sole coordinator and another assistant is brought in to coach QB's with no coordinating duties. 
Moore has proved a dutiful coach for Harbaugh and his name has been brought up for numerous head coaching possibilities. His offensive lines have won the last two Joe Moore Awards as the nations best. The former Central Michigan and Louisville assistant may become the lone OC here as his next step towards becoming a head coach.
Greg Roman
Former Offensive Coordinator, Baltimore Ravens
Roman has been in the NFL since he left Stanford in 2010. He has been the OC in San Francisco, Buffalo, and Baltimore. His time in the NFL may be done for now but he certainly has the pedigree and his NFL resume will help Harbaugh and the Wolverines keep nailing recruiting and a high powered offense. Another guy who will prioritize running the ball, Roman has also utilized TE's well in his passing attack in addition to multiple formations. His longtime relationship with John Harbaugh could also help him here.
Tavita Pritchard
 QB Coach/Former Offensive Coordinator, Stanford
Despite spending over a decade with David Shaw, Pritchard is still a young coach and his recruiting prowess is well known. The last 3 seasons have been poor in Palo Alto but the success before that will ensure he gets a decent job. His team's ability to run the ball, play risk averse football, and play on the line will all appeal to Harbaugh as a coordinator. He was retained at Stanford by incoming coach Troy Taylor but he was stripped of his coordinator role, which Taylor himself will take over. That doesn't feel like long term stability to me.
Paul Chryst
Former Head Coach, Wisconsin
What Chryst may lack in flair and innovation he makes up for in resume and success. He won't be the popular hire, but Harbaugh stopped caring about that years ago. Chryst and him have a long relationship and he also is known as a good QB mentor. His time in Wisconsin ended poorly, but up until his last half season he was winning games and producing results. A veteran head coach who knows what he brings to the table is where I see him landing, if he wants back in the game now.
Scott Turner
Former Offensive Coordinator, Washington Commanders
This is another one that fans might not be on board with right away but he has a resume chalked full of NFL and college stops, including one with Harbaugh at Michigan. Frequent criticism thrown at Turner has been that he's only coaching at this level because of this Dad. Well, you know who else had a Dad who was a college coach? Jim Harbaugh, and clearly that's worked out well for Michigan. You don't stick around the NFL as long as he has without knowing what you're doing. I wouldn't be shocked to see if Harbaugh at least discusses bringing him back to Michigan.