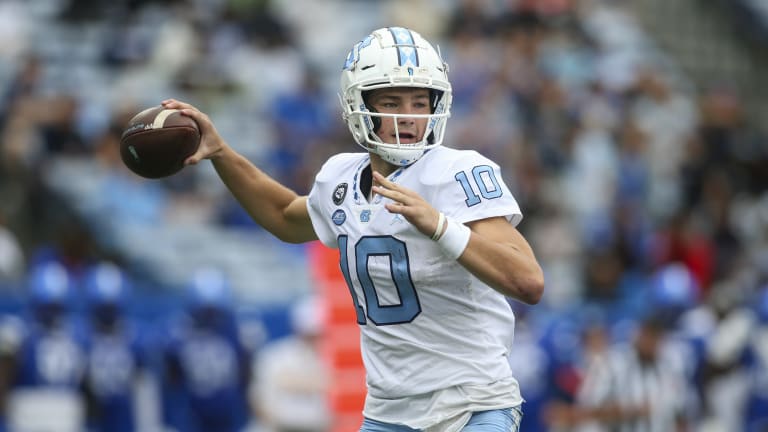 Ranking ACC and Notre Dame QB Situations
There were a lot of transfers in the ACC, which QB rooms got stronger, and who got weaker?
The ACC has seen a lot of movement at the QB position in the portal these past few weeks. So who's QB room is looking better, and who is looking like they may need to grab a new guy?
---
1. North Carolina
UNC is an easy number-one pick here for one person and one person only, Drake Maye. It does not matter who is behind him at this point. Maye quickly became one of the best QBs in the country and the ACC in 2022, I expect him to keep improving in 2023 and possibly make a Heisman run.
---
2. Florida State
Jordan Travis had a breakout year for the Noles in his first full season as a starter. He even ended the year with the highest PFF grade out of all QBs in the country. Even behind him, FSU has a lot of depth in the position. Tate Rodemaker led a game-winning drive against Louisville early in 2022, behind him is former four-star AJ Duffy, and they recently signed three-star Brock Glenn, who was a flip from Ohio State.
---
3. Notre Dame
This is an easy pick considering who they were able to obtain in the portal. Sam Hartman from Wake Forest is now a part of the Fighting Irish. This easily makes them a national title contender for the 2023 season.
In addition to Hartman, Notre Dame was also able to flip four-star QB Kenny Minchey from Pitt. This Quarterback room is the deepest it's been in a long time.
---
4. Clemson
DJ Uiagalelei is now gone to Oregon State, but former five-star Cade Klubnik is what most people think is the answer for Clemson. Klubnik played great in the ACC championship game but didn't impress anyone against Tennessee in the Orange Bowl. He also ended the game for Clemson against an undefeated Syracuse earlier in 2022. However, he didn't really do too much but hand the ball off to Will Shipley.
Clemson also has new OC Garrett Riley coming in from TCU, but will his offense work in the ACC? Only time will tell.
---
5. NC State
Yes, they lost Devin Leary, but they also gained one of the other best quarterbacks in the ACC, Brennan Armstrong from Virginia. Armstrong struggled last year as UVA had a first-year head coach, but had just under 4,500 yards passing in 2021.
Their backup, MJ Morris, also got to play in 2022 after Leary got hurt. Morris played very well when given his chance, beating two ranked teams UNC and Wake Forest. With that being said, this has to be one of the stronger QB rooms in the ACC.
---
6. Syracuse
Other than getting banged up towards the end of the season, Garrett Shrader had a great year for the Orange and is returning to upstate New York. This is another story of Consistency being key. It is much easier on your offense when you have the same guy leading it for another year.
---
7. Pitt
The second of many transfer QBs in the ACC expected to start in 2023, Phil Jurkovec. Jurkovec is being reunited with his old offensive coordinator, Frank Cignetti Jr. How did Jurkovec do under him at BC? Well, he had the best year of his college career. In 2020 under Cignetti's offense, Jurkovec had 2,558 yards and 17 TDs.
As for backups in Pittsburgh, the situation is very unclear. Nick Patti has been their staple second guy in the QB room for years now and even led the Panthers to a big victory over UCLA in the Sun Bowl. However, Patti said he was going to enter the portal and never did, no other news has come out on him other than that.
Pitt has also signed Ty Dieffenbach, a three-star from California at quarterback that they can start to develop under Jurkovec.
---
8. Louisville
I really like Louisville's quarterback room right now. Jeff Brohm recently brought in second-time transfer Jack Plummer from Cal. Where was Plummer before? Under Brohm at Purdue. Not only did Plummer have a breakout season at Cal with 3,095 yards and 21 touchdowns, but it should be very easy for him to re-learn this offense.
In addition to Plummer, Louisville also signed four-star Pierce Clarkson from St. John's Bosco. With Plummer only having a year of eligibility left, he is the perfect bridge to stay relevant in the conference while developing their next great young quarterback.
---
9. Duke
Duke is coming off a great nine and four season and a lot of that was due to quarterback Riley Leonard. Leonard has proven to be a great dual-threat QB with 20 touchdowns through the air and 13 on the ground. With him back, Duke has the chance to keep surprising people in 2023.
---
10. Miami
There are a lot of questions at quarterback for Miami going into the 2023 season. Last offseason everyone was hyping up Tyler Van Dyke, but now there are rumblings that the Canes should move on from him. Van Dyke spent most of the 2022 season nursing a shoulder injury, causing Jake Garcia and Jacurri Brown to start a few games. Garcia has since transferred to Mizzou, but in the one game, Brown got the most snaps that did result in a Hurricanes win over Georgia Tech.
Miami also doesn't have an elite quarterback in the 2023 class, only three-star Emory Williams. If Van Dyke doesn't work out this year, I would expect Miami to be looking to use NIL and get an elite QB in the portal next season.
---
11. Georgia Tech
Georgia Tech is in a very interesting situation. They hired former offensive line coach and interim head coach Brent Key as their new full-time head coach. In addition to this, three-year starter Jeff Sims transferred to Nebraska.
However, the Yellowjackets did pick up former five-star and class of 2020 Elite 11 Champion Haynes King from Texas A&M. Clearly, things didn't pan out for King in College Station, but we also saw how bad of a situation there has been in College Station this past year. King still has all the talent in the world, I expect this change of scenery to be good for him.
---
12. Boston College
Phil Jurkovec leaving the Eagles is a scary situation to deal with. Luckily for them, Jurkovec's injury allowed them to develop Emmett Morehead as a redshirt freshman. Morehead threw for 1,254 yards and 10 TDs in 2022. The biggest reason BC is this far down on the list is that Morehead is still wildly unproven, but the fact that he did get a season of experience with so much eligibility left is a great step.
---
13. Virginia Tech
It is hard to tell how good Virginia Tech will be at quarterback next season. They were able to pick up Kyron Drones from Baylor in the portal. Drones played five games for the Bears, having only 219 yards passing and one touchdown. Not much going on there statistically, but he was the number 130th recruit in the 2021 class.
The Hokies also signed William Watson, a three-star out of Massachusetts, and Dylan Wittke from Georgia. I don't think either of them will start, but they are clearly trying to rebuild their QB room by developing younger guys rather than getting someone with only one year left from the portal.
---
14. Virginia
Virginia lost a lot with Brennan Armstrong going to NC State in the portal. They were able to get Tony Muskett out of the portal from Monmouth. However, we all know there is a huge leap from the FCS level to the FBS power five. Muskett was solid at the FCS level, but I have a feeling this jump may be a little too much for a Quarterback.
15. Wake Forest
Another team where losing their quarterback is just making them take a huge hit. Losing Sam Hartman is going to hurt this team big time. Mitch Griffis did play a little while Hartman was out with medical issues, but it was just too little to show how good or bad he really is. Griffis was only a three-star out of Ashburn, Virginia, but so was Hartman. Maybe Dave Clawson is good at developing quarterbacks? We will see how Mitch Griffis does.
To be fair to Griffis, he did have a good game against VMI. He was even one of the nation's leaders in completion percentage after week one. 
The Demon Deacons also signed Charlie Gilliam from Georgia, but the main reason Wake Forest is last on this list is that we don't know much about these Quarterbacks; losing Hartman might just be too much.