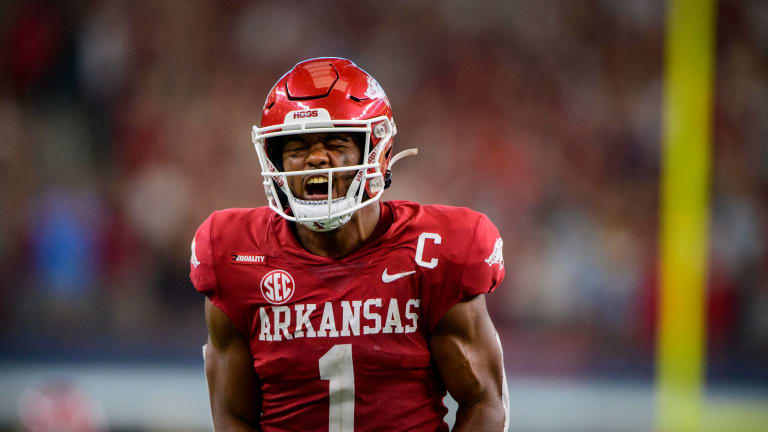 Ranking SEC QB Situations
Who has the best QBs? Who has the worst?
This article covers the rankings of the current SEC QB situations.
---
1. Ole Miss
Lane Kiffin has been a monster in the portal this week, picking up two solid QBS in Spencer Sanders and Walker Howard. Jaxson Dart, Sanders, and Howard, this QB room is stacked. However, things could get a little dicey when it comes to a QB battle here in the fall. We all know the old saying that having two quarterbacks play is worse than not having one. It will be interesting to see who Kiffin chooses to lead the Rebels next season.
---
2. LSU
Jayden Daniels developed well over the course of this past season. After the first few games, most people weren't high on the former Arizona State Sun Devil; however, after beating Alabama and winning the SEC west, he was just fine.
In addition, Garrett Nussmeier looked good when he played against Georgia. Nussmeier had 294 yards on 15 completions. Even if Daniels doesn't work out, LSU fans can be more than happy with him under center.
---
3. Tennessee
Joe Milton can throw the rock. We saw it in the Orange Bowl against Clemson and against Vanderbilt to end the year. On top of that, they also have 5-star Nicholaus Iamaleava coming to Rocky Top. There isn't much to debate here.
---
4. Georgia
Once again, we will see how Kirby Smart doesn't rebuild; he just reloads. Someone who doesn't pay attention to college football may think that there is no way UGA can get a three-peat without Stenson Bennett. The Bulldogs have three blue-chip recruits hungry for the starting job Carson Beck, Brock Vandagriff, and Gunner Stockton. Carson Beck is most likely to start considering he was already getting playing time at some points in the season.
---
5. Kentucky
The addition of Devin Leary here will go a long way. He was always seen as one of the best in the ACC; now we get to see if he can do the same in a much tougher conference. The only worry is if he can stay healthy; Leary did not play most of the 2nd half of the season this past year due to a torn pectoral muscle that required surgery.
---
6. Mississippi State
To me, this ranking is mainly due to consistency. Will Rogers is back yet again and really has been one of the more underrated SEC quarterbacks. Rogers set multiple records in Mike Leach's Air Raid. It will be interesting to see if his play changes under the new schemes of Zach Arnett. 
Yes, Mississippi State did just get Mike Wright to commit. However, I can't see someone who got benched for a freshman taking over for Rogers, who is the heart of this team.
---
7. Arkansas
Again, consistency at QB is key. KJ Jefferson is coming back to Arkansas for another year and he has also quietly been one of the best in the SEC, mainly due to the Razorbacks' disappointing season. Either way, he still had 24 passing TDs with only 5 interceptions and 640 rushing yards on top of that. He is Arkansas' key to success in 2023.
---
8. Mizzou
Originally, I had Mizzou at 10 on this list. The addition of Jake Garcia from Miami in the portal gave me no choice but to move them up. This QB room is pretty loaded. Brady Cook just finished his first full season as a starter for the Tigers, but with former 4-star Sam Horn behind him as well as the experience of Garcia starting a few games at Miami, it will be interesting to see who the Tigers turn to. 
---
9. South Carolina
Spencer Rattler hit a stride in the last few weeks of the season, beating both Tennessee and Clemson. In general, his career has been a disappointment since his appearance on QB1 back in high school. However, he is still a decent quarterback and has all the potential in the world.
---
10. Alabama
Putting the tide this low on the list seems criminal, but at the same time, Jalen Milroe did not look good against Texas A&M this year. However, former five-star Ty Simpson could make a run at the starting job. In general, it is hard to replace someone as good as Bryce Young.
---
11. Texas A&M
There are so many questions about this Aggie team after such a lousy season in 2022. Connor Weigman looks like he will probably be the starter next year, but I don't know if any QB can really be successful in College Station right now if Bobby Petrino is unable to clean up this offense.
---
12. Vanderbilt
You might be surprised to see Vandy at 12. Early in the season, they benched Mike Wright for freshman AJ Swann. 2023 will most likely be Swann's first full season as a starter for the Commodores. Since he now has some SEC experience, I put them at 12, but I still don't expect anything big to come out of Nashville next season.
---
13. Florida
The QB room in Gainesville is just a dumpster fire. From Anthony Richardson leaving for the draft to the Jaden Rashada drama, there is just nothing good about this situation. Napier will be forced to start Graham Mertz out of Wisconsin, which is just screaming for another disappointing Florida season.
---
14. Auburn
So many question marks here. Hugh Freeze has yet to pick up a QB from the portal leaving so many question marks for this offense. Currently, Robby Ashford is probably the guy, but I don't think that's what Freeze or Auburn fans want at all.