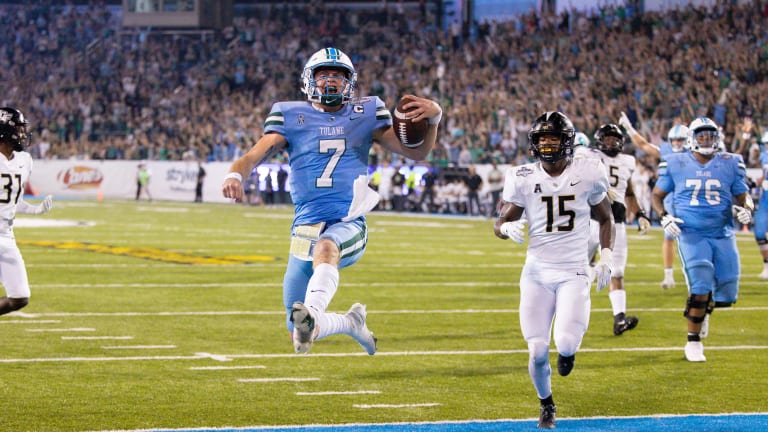 Reaction to the CFP & NY6 Lineups
This article takes a look at the official NY6 game selections. We'll compare the matchups, and I'll provide my take on each.
My Reaction
---
Sugar Bowl – Alabama vs Kansas State  
This is one of the few games I predicted correctly. Credit to Kansas State because I had them losing to TCU. They played a great game and deserve this bowl game and matchup with the Crimson Tide. Deuce Vaughn had a good game in the Big 12 Championship going for 130 yards on 26 carries; he also had a touchdown. They'll face a two-loss Alabama who has lost both games by a combined four points. It'll be interesting to see who plays for Alabama and even Kansas State with this new era of opting out of non-playoff bowl games. 
---
Rose Bowl – Utah vs Penn State
I did not think that USC would lose again to Utah on Friday, that game really surprised me. Caleb Williams was limping around all game, but I don't know if it would've made a difference. The Trojans were physically outmatched and looked like they forgot how to tackle on numerous occasions. Utah dominated that game. They'll take on Penn State in the Rose Bowl and look to win this time after that wild game against Ohio State last year. Penn State beat everyone on their schedule except for Ohio State and Michigan; two Playoff teams. I'm excited about this matchup and I think this will be a great game. 
---
Orange Bowl – Tennessee vs Clemson 
This is another one that I got right. Tennessee will face Clemson without Hendon Hooker. It looks like they'll also be facing Cade Klubnik instead of DJ Uiagalelei. I believe this switch makes Clemson's offense more dynamic and explosive. Tennessee will be looking to finish their season on a high note and win their first NY6 bowl. Winning this game could give each of these teams some momentum heading into next season. 
---
Cotton Bowl – USC vs Tulane
I had half of this one correct. Tulane took care of UCF and is the highest-ranked GO5 team. They'll face a USC team that just lost badly to Utah and may be without their quarterback. If there is an NY6 team that Tulane could compete with and beat, it would be USC. They have injuries and they'll have opt-outs. The Trojans could be unmotivated after missing out on the Playoff. This is another game I'm excited about, I can't wait!
---
CFP Semifinals 
Peach Bowl – 1 Georgia vs 4 Ohio State 
Ohio State sneaks in after USC's loss. They'll face undefeated, top-ranked, and SEC Champion Georgia in Atlanta. The odds are stacked against them, but they have the talent to compete with the Bulldogs. Georgia just hung 50 on LSU, but they also gave up 30. I believe this will be a close game that could go either way. That Ohio State offense versus this Georgia's defense will be fun to watch. We'll see if Stetson Bennett can lead the Dawgs back to the National Championship, or if CJ Stroud can take the Buckeyes back to where they think they belong.  
---
Fiesta Bowl – 2 Michigan vs 3 TCU 
This is the matchup I had here. Michigan smacked Purdue in the Big Ten Championship and TCU ended up losing to Kansas State but remained at three. This is an interesting game that I think could go one of two ways. It'll either be a close game where either team could win, or Michigan will win big. If Michigan plays how they did against Ohio State, they'll be fine. If they play the way they did against Illinois or Maryland, then we could be in for a good one. TCU is a good team and deserves this spot. I can't wait to see what they do with the opportunity. We really do have a great slate of NY6 bowls and CFP Semi-finals. Get your popcorn ready.