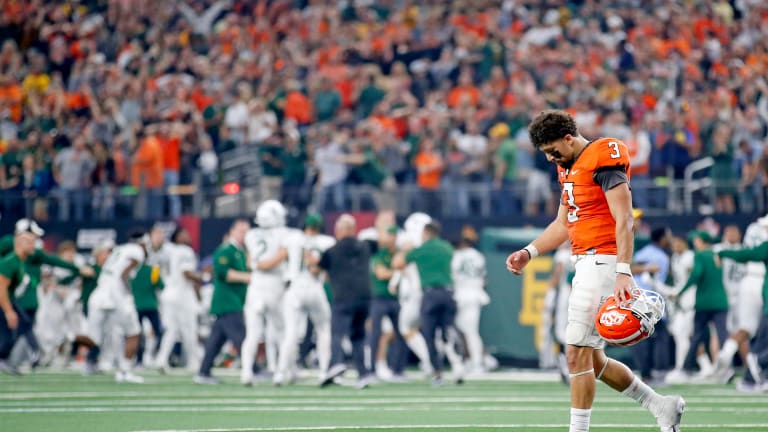 Staff Picks: Baylor vs Oklahoma State
Baylor and Oklahoma State met in the BIG 12 championship last year, and the game did not disappoint. On the last play of the game, the Baylor defense stopped Spencer Sanders and Oklahoma State on the one-yard line clinching their first conference title since 2014 (shared title with TCU). The Cowboys are hungry for revenge and look to win their first-ranked matchup of the year. Below are the Mike Farrell Sports staff picks for this week-five game.
---
Mike Farrell- Oklahoma State
Oklahoma State proves they are the best BIG 12 team with a convincing win.
---
Cory Lemer- Baylor
I love Oklahoma State; however, Dave Aranda and this Baylor defense are incredible.
---
Matt Perkins- Baylor
Despite their loss a couple of weeks back at BYU, I still think that the Bears are in the upper echelon of the Big 12, but Oklahoma State is right there with them. I like Dave Aranda's defense, and I'll take my chances with them against a balanced Cowboys team at home in Waco.
---
Timothy Bailey- Baylor
The two split last season, but Oklahoma State's win was against Gerry Bohannon. They lost to Shapen. I think the Big 12 championship game MVP does them in once again.
---
Unnamed source- Oklahoma State
In honor of Mike Gundy's epic speech, I'm picking the Cowboys. Score prediction 23-17. 
---
Luke Brumm- Oklahoma State
The Cowboys get revenge in Waco.
---
Kyle Golik- Oklahoma State
It's the anniversary of the "I'm a man rant" The Cowboys have revenge on their minds.
---
James DeCarlo- Baylor
After almost losing on the road last week, Baylor will defend its home turf.
---
Paul Wangsmo- Baylor
Baylor pulls off a close win at home.
---
Noah Dzik- Oklahoma State
Oklahoma State wins by one score in Waco.
---
Shayne Pickering- Oklahoma State
Baylor is in a tough stretch of games right now, but they are battle-tested and will look for a big win against Oklahoma State.
---
Alex Bryan- Oklahoma State
I think Oklahoma state is a great choice to win the Big 12. I believe they have revenge on their minds from the Big 12 title game. Give me Oklahoma State 44-38.
---
Hunter DeNote- Oklahoma State
Sanders will have a solid game leading the Cowboys to a road win.