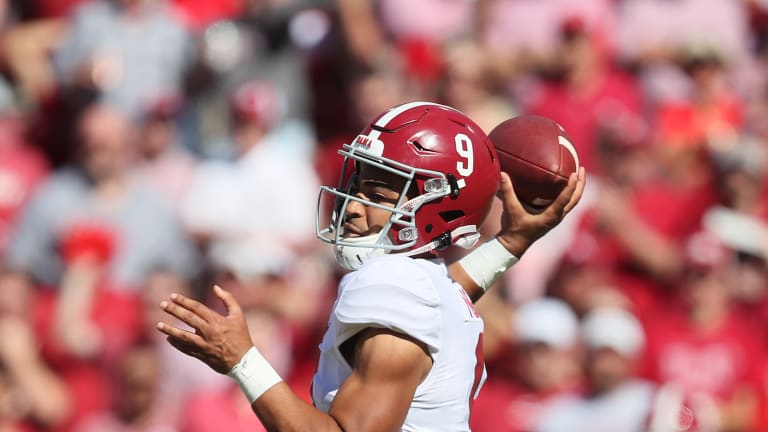 The 5 Most Talented Rosters in College Football
— And finally, talented rosters usually equal playoff appearances but this season that's not the case for some. Here are the five most talented rosters in college football.
---
1. Alabama
Just look at the recruiting rankings over the past five seasons, plus all of the extreme talents they've pulled in from the portal. They've got future day-one draft picks at nearly every position on the roster and top 3 national talent at QB, RB, DE, and in other spots.
2. Georgia
The Dawgs are neck-and-neck with the Tide and their defense might have even more future draft picks than their SEC rivals. But it's the offensive side of the ball where Georgia has recently taken a couple of big steps forward. Brock Bowers is the big name at the skill positions, but they're deep at WR and RB as well.
3. Ohio State
We already know that Ohio State is WRU at this point but they've got big swaths of five-star talent all over this roster. The defensive backfield has also been a strength for the Buckeyes over the past five years, and they have done a great job continuing to refill that position not only through recruiting, but also by key transfer portal pickups like Tanner McCalister.
4. Clemson
The Tigers have been rolling out some of the best defensive units in the country for a while now, and they do a fantastic job of turning highly recruited defensive players into collegiate stars and top NFL draft picks. They've struggled on the offensive side of the ball, but that has as much to do with coaching as it does with the talent available. They've got three former five-star quarterbacks on the roster - they need to do better offensively.
5. USC
The Trojans have hit the portal more than any other team on this list due to their recent coaching change, but they've been able to add tons of impact players to a roster that already had a good foundation of talent. Caleb Williams is obviously the name that everybody knows, but they've got future NFL day 1 picks all over the roster.