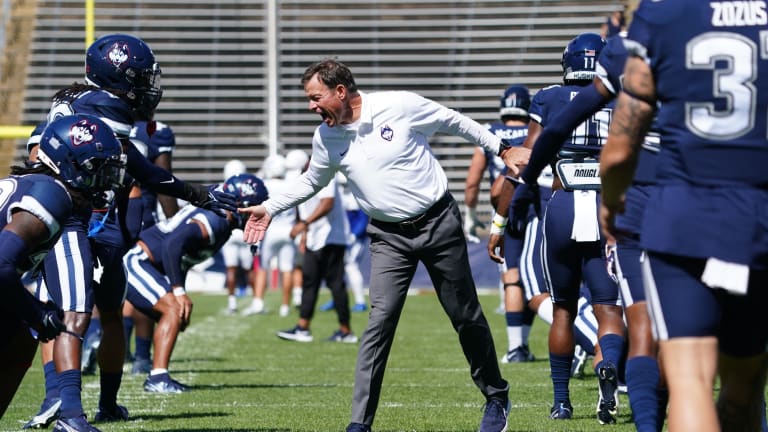 The CFB Coaches Doing the Most with the Least
We often rag on coaches who aren't living up to their contracts. But we need to highlight some guys who are doing an incredible job with limited talent on their roster.
---
1. Jim Mora Jr., UCONN
The turnaround in Storrs is arguably the most incredible development of the entire 2022 season. This program was an absolute laughingstock for the past half-decade, and he has them on the precipice of bowl eligibility at 5-5. Mora didn't just make chicken salad out of chickens**t, he made a five-course meal.
2. Mike Elko, Duke
Speaking of turnarounds, Elko's first season in Durham is an unmitigated success even if they don't win a game for the rest of the season. He's got a gem at defensive tackle in DeWayne Carter, an offense averaging 35 points per game, and genuine excitement around the program. The fact that they're a ten-point favorite against Virginia Tech this weekend tells you all you need to know.
3. Bret Bielema, Illinois
In his second season at Illinois, Bielema has molded the Illini in his image with a bruising ground game and stout defense. No one was picking Illinois to win the Big Ten West, no matter how bad that division is. And they're in the driver's seat right now with a key game against Purdue this weekend to effectively clinch it.
4. Sonny Dykes, TCU
This one has to start with an apology from me - I ripped the Dykes hiring as lazy and thought the program would take a downhill turn. Oh boy, was I wrong. Dykes is arguably the coach of the year at this point after turning TCU into an unstoppable force on offense with Max Duggan in full control despite not even beginning the season as the starter.
5. Lance Leipold, Kansas
I've been pretty bullish on Leipold all season, and after another big win over a much more talented Oklahoma State this past weekend, he's proven me right again. We're living in a world where we've got a very good chance of seeing Kansas, Duke, UCONN, and Kentucky all in the postseason. Didn't realize it was basketball season already.