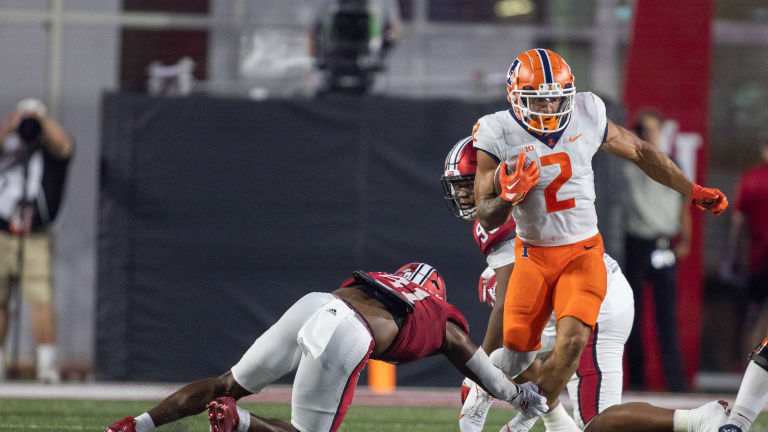 The Perfect Week Four Doak Walker Frontrunners List
The Doak Walker Award is presented annually to the most outstanding RB in college football. The award is named for former SMU Heisman-winning RB Doak Walker in 1990. Washington RB Greg Lewis became the first to receive this award after an impressive season racking up over 1.2K yards. Current Seattle Seahawk and former Michigan State RB Kenneth Walker III was last year's winner after rushing for 1.6K yards and 18 touchdowns.
---
Doak Walker contenders in alphabetical order
Braelon Allen, Wisconsin
Tank Bigsby, Auburn
Samson Evans, Eastern Michigan
Treyvon Henderson, Ohio State
Evan Hull, Northwestern
DeWayne McBride, UAB
Jordan Mims, Fresno State
Bijan Robinson, Texas
Sean Tucker, Syracuse
Deuce Vaughn, Kansas State
---
Doak Walker Top 3
#3 Raheim Sanders, Sophomore, Arkansas
Stats:
Raheim Sanders had a rough week against the Aggies. We knew coming in the Aggies would be hard to run against, and they proved it Saturday. Texas A&M held Sanders to a season-low 68 yards and a long run of only 12. Sanders is holding steady in the top three; however, he is farther away from the top two than when he entered the week.
---
#2 Chase Brown, Junior, Illinois
Week 4 Stats:
Chase Brown had another amazing performance this week against Chattanooga. For the fourth straight game, the Junior back rushed for over 100 yards and continues to lead college football in rushing yards this season. Brown, for me, is #2 due to him not playing a tough defense yet; however, he will face his toughest test this weekend against the Wisconsin Badgers, who are known for being able to stop the running game.
---
#1 Mohamed Ibrahim, Senior, Minnesota
Week 4 Stats:
Mohamed Ibrahim stays at #1. Minnesota moved to 4-0 on the season behind another impressive performance from the senior. Mohamed and Brown are even with neither gaining or losing this week, but both have big games this week, which could shake up the rankings. If both continue at this pace, the Doak Walker award will become 50/50, but I would give it to Ibrahim as it stands.
---
There were no changes in the contender's list this week as nobody was impressive enough to remove someone.
Braelon Allen is at #4. After a slow start to the season, the sophomore star has erupted these past two games with over 200 yards and four touchdowns. Allen is getting close to entering the top three.
The top three stayed the same this week but can change next week. Raheim Sanders will face Alabama this week, who has a solid run defense. The top two are tricky because Ibrahim and Brown are just about even and could switch places soon.