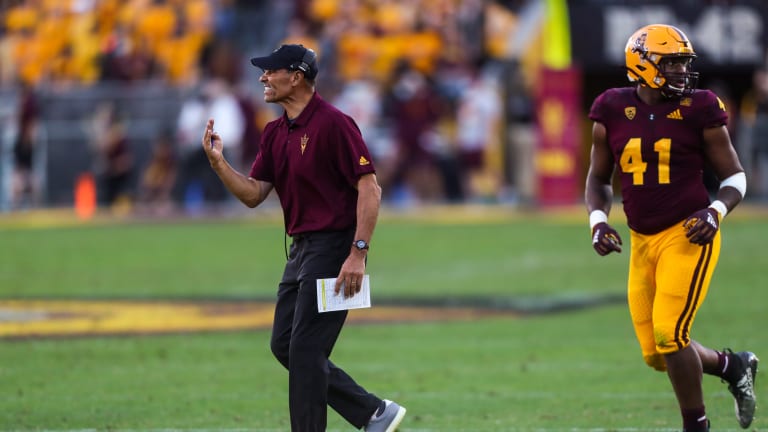 The Replacements: Herm Edwards
Who to look out for in the Sun Devils coaching search?
Herm Edwards wasn't able to coach his players to win the game and was terminated Sunday evening after a tumultuous tenure that involved NCAA sanctions and a mass exodus of talent to to the transfer portal. 
Edwards message most likely didn't resonate well in recruiting, especially in a hot bed like the state of Arizona has and with the vicinity to California, he wasn't able to translate. 
Let's take a look at the possibilities for the job. 
---
Doug Belk
The time is coming for Belk to ascend to head coach and Dana Holgorsen has promoted Belk accordingly. 
Belk took over the reigns as sole defensive coordinator in Houston last season that saw the Cougars win 11 games and jump from 72nd in total yards per play to 14th as well as No. 7 in red zone defense and led the Nation in third down defense. 
Belk was a graduate assistant on Alabama's national championship team. 
---
Josh Gattis
Gattis has been rising since being promoted to passing game coordinator at Penn State in 2017. 
He has been an offensive coordinator in the game since 2018 with stops at Alabama guiding the Tide to the College Football Playoff and then went to Michigan where he turned in a Broyles Award winning season last year helping the Wolverines win their first Big Ten Conference Championship Game and getting into the College Football Playoff. 
With him now in Miami as an assistant head coach and offensive coordinator and molding Tyler Van Dyke into a future NFL quarterback, this would be a great fit for the Sun Devils. 
---
Jeff Grimes
The veteran Baylor offensive coordinator has not been a head coach in his near three decade career as an assistant but he has been making an impact since becoming a coordinator at BYU back in 2018. 

Grimes coordinated a Cougar offense that had ranked No. 78 in yards per play in 2018 and got them clicking to becoming the No. 1 in yards per play in 2020. 
He took over in Baylor last season, and took the Baylor offense that had ranked No. 125 and up to No. 33. Grimes was a finalist for the Utah State coaching vacancy two years ago, and has been described as an excellent game planner and whose presence exudes leadership and confidence.
---
Barry Odom
The former Missouri head coach led the Tigers to bowl eligibility in his final three seasons, a late season collapse in the 2019 did him in as head coach. Most industry insiders felt Odom didn't have the necessary resources to succeed and was one of the lower paid coaches in the SEC. 
Odom has rejuvenated his career coordinating Sam Pittman's Arkansas defense. He has led the Razorbacks defense to new heights, allowing 22.9 points per game, the fewest for an Arkansas defense since 2014, ranking No. 39 in the country. Arkansas was No. 3 in the SEC in third down defense and red zone defense rising Odom's stock.
---
Jeff Traylor
Traylor after spending a quarter century coaching high school football in Texas, he has been a fast riser in the college ranks. He was Chad Morris's assistant head coach at SMU in 2017 before following him to Arkansas where he served the same position. 
In 2020 he became University of Texas-San Antonio (UTSA) and had guided the Roadrunners to back to back bowl games and a Conference USA championship last season where he was named conference coach of the year. 
With him being a fast rising, this would be the natural next step.