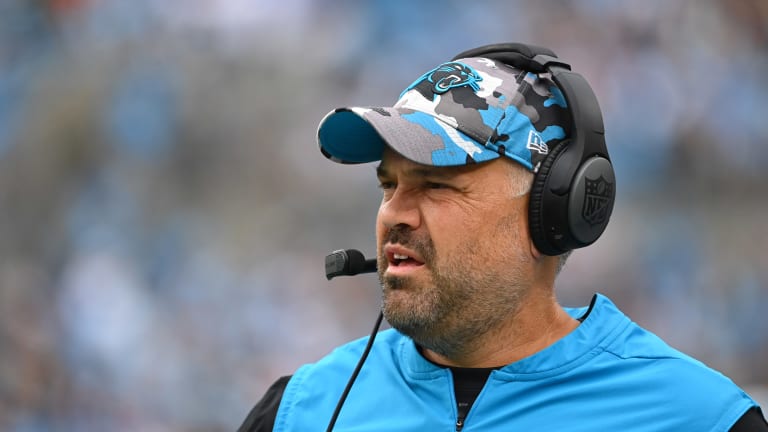 Top Five Landing Spots for Matt Rhule
After a stint in the NFL with the Carolina Panthers, former Baylor coach Matt Rhule is back on the job market. This article will take a look at five potential landing spots for a coach that will certainly be in high demand. 
---
1. Auburn
Auburn and Matt Rhule would make sense in a lot of ways. Auburn needs to fire Bryan Harsin, and I believe that Matt Rhule would be a great hire. He has proven at Temple and Baylor that he can turn around struggling programs. Auburn is a place that doesn't want to have to wait another three or four years to be good. They want to compete every season. In Rhule's first season at Temple, he went 2-10. Temple improved to 6-6 in his second season before leading the Owls to back-to-back ten-win seasons. When Baylor hired Rhule, he went 1-11 in his first year. In year two, Rhule led them to a 7-6 record and improved to 11-3 before being snatched up by the Carolina Panthers in 2020. He recently got fired, but I think he fits better in the college game.
---
2. Wisconsin
Matt Rhule has always wanted to control a football game by effectively running the ball. Who has better running backs year in and year out than Wisconsin? Could this be a match made in heaven? Wisconsin has a pretty talented roster that I believe Matt Rhule could help succeed almost instantly. The Big Ten West is wide open with no clear best team. If Wisconsin doesn't hire someone already in the program, I could see Matt Rhule rocking red and white come fall 2023.
---
3. Nebraska
If any team needs an instant turnaround, it's Nebraska. Their fans have been very loyal and still sell out every game and cheer hard, so they deserve a good product on the football field. Rhule is a coach that can do that. As I have stated, he has turned two faltering programs into double-digit win teams. Nebraska fans deserve better, and Matt Rhule can give that to them.
---
4. Georgia Tech
Another team that seems like they've been bad forever is Georgia Tech. They keep on winning only three games a season. They just fired Geoff Collins and are looking for a new head coach. Matt Rhule could succeed in a talent-rich state like Georgia, especially with the Yellow Jackets located in Atlanta. He could take advantage of the recruiting and put Georgia Tech back on the map. They are another fan base that deserves better. I would love to see Tech give Rhule a shot.
---
5. Colorado
Colorado is the worst team in college football, record-wise. They are the only team that has yet to win a game. They are 0-5 and have suffered a blowout loss in every game, including a 41-10 loss to Air Force. They are a team who needs help and needs it now. The Buffs recently fired their coach. If they can hire Rhule, this would be huge for the Buffaloes. Again, he has taken a two-win Temple team and a one-win Baylor squad and turned them into ten- and eleven-wins. I don't think it matters where he goes; Matt Rhule has a track record that shows he can turn any team around.