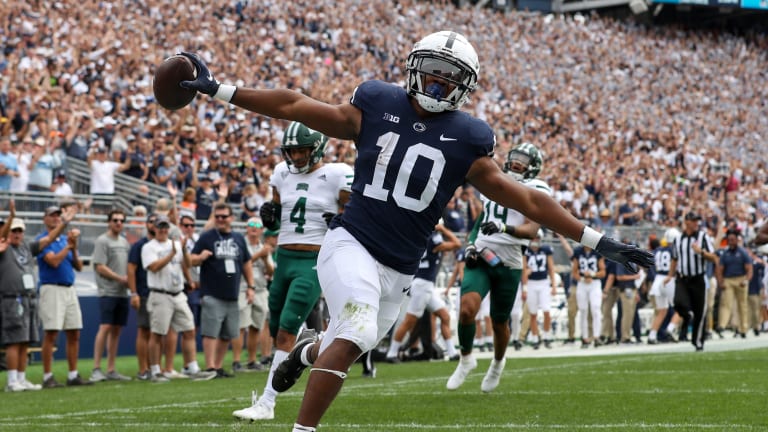 Top True Freshman Performances from Week 2
Which CFB newcomers stood out?
RB Nicholas Singleton – Penn State
Singleton had his coming out part on Saturday during the Nittany Lions victory over Ohio with 179 yards and two touchdowns on only 10 carries.
RB Omarion Hampton – North Carolina
Hampton continued to excel with 110 yards and two touchdowns on 16 carries during the Tar Heels 35-28 victory over Georgia State.
WR Dane Key – Kentucky
Key had three receptions for 83 yards and one touchdown during the Wildcats huge victory on the road at Florida.
DB Nick Emmanwori – South Carolina
While the Gamecocks lost at Arkansas, Emmanwori finished with 11 tackles.
RB Quinshon Judkins – Ole Miss
Splitting carries with Zach Evans, Judkins totaled a team-leading 104 yards on 10 carries during the Rebels victory over Central Arkansas
RB CJ Donaldson – West Virginia
Donaldson followed up his big performance against Pittsburgh by rushing for 48 yards and two touchdowns in the Mountaineers loss to Kansas.
LB Dasan McCullough – Indiana
McCullough again performed up to expectations with five tackles, two tackles for a loss and two sacks for the Hoosiers during their victory over Idaho.
WR Tetairoa McMillan – Arizona
Tetairoa led the Wildcats with 69 receiving yards on four receptions during Arizona's 39-17 loss to Mississippi State.
LB Shamar James – Florida
Despite the loss to Kentucky, James is playing like a veteran. On Saturday he totaled seven tackles.