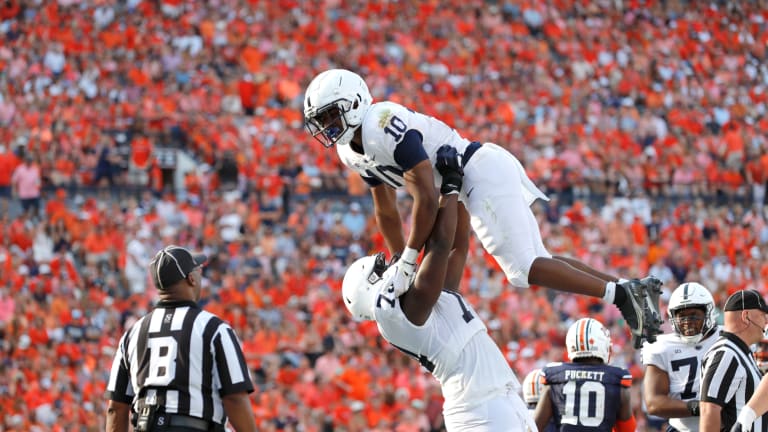 Top True Freshmen for Week 3
Which new faces shined from an action-packed weekend?
DB Nick Emmanwori – South Carolina
The Gamecocks struggled immensely during a 48-7 loss to Georgia, but Emmanwori continued to shine with a team leading 14 tackles. He is the leading tackler on the team now with 28, ten more than the player with the second most.
RB Richard Reese – Baylor
Reese had his breakout game on Saturday with 156 yards and three touchdowns on 19 carries during Baylor's 42-7 victory over Texas State.
RB Nicholas Singleton – Penn State
Another big game for Singleton, with 124 yards and two touchdowns on only ten carries during a 41-12 victory at Auburn.
LB Jaishawn Barham – Maryland
Barham impressed during a win over SMU with 12 tackles, one tackle for a loss and one sack.
LB Jaren Kanak – Oklahoma
Kanak totaled 10 tackles, one forced fumble and one fumble recovery during Oklahoma's 49-14 victory at Nebraska.
DE BJ Diakite – Vanderbilt
In a win at Northern Illinois, Diakite finished with three tackles, 2.5 tackles for a loss and one sack.
WR Luther Burden – Missouri
Burden had six receptions for 58 yards, three carries for eight yards and returned a punt 78 yards for a touchdown during the Tigers 34-17 victory over Abilene Christian.
RB Kaytron Allen – Penn State
Allen had his best collegiate game to date with 52 yards and two touchdowns on nine carries during the victory at Auburn.
RB CJ Donaldson – West Virginia
Donaldson rushed for 101 yards and three touchdowns on only nine carries during a 65-7 victory over Towson.
TE Tanner Koziol – Ball State
Koziol had his best game to date with six receptions for 59 yards and one touchdown during a win over Murray State.
TE RJ Maryland – SMU
Maryland only had one reception, but it was a 51-yard touchdown, as the Mustangs lost a close game at Maryland.
WR Dane Key – Kentucky
Key, who has caught a touchdown in each of his first three games with the Wildcats, led the team on Saturday with six receptions for 90 yards and one touchdown.
DB Alex Afari – Kentucky
Afari continued to impress on Saturday during a 31-0 victory over Youngstown State with a team-leading five tackles. He also added a tackle for a loss during the shutout.
RB Quinshon Judkins – Ole Miss
Judkins rushed for 98 yards and two touchdowns on 19 carries during a 42-0 victory at Georgia Tech.
RB Trevor Etienne – Florida
Etienne rushed for 56 yards and one touchdown on eight carries during the Gators 31-28 victory over USF.
WR Antonio Williams – Clemson
Williams had two receptions for 57 yards and one touchdown during a 48-20 victor over Louisiana Tech.