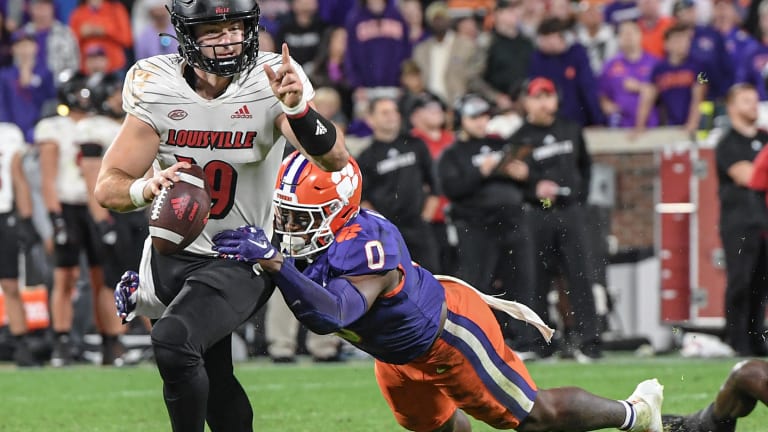 Week 11 Breakout Players – Barrett Carter continues to improve
Who came from out of nowhere to help their teams?
LB Barrett Carter – Clemson
After a very promising true freshman season with the Tigers, Carter has continued to improve his game in 2022. On Saturday night he enjoyed his most dynamic game to date in Death Valley during a victory over Louisville with eight tackles, 3.5 tackles for a loss, two sacks and one interception. Having firmly established himself as one of the more consistent contributors on the defensive unit, look for his production to continue to improve during his time in Clemson.
DT Simonte Pepa – Utah
Pepa redshirted his true freshman season and has played in each 2022 game as a reserve. At 6-foot-3 and 345-pounds, the defensive tackle did the unexpected on Saturday night against Stanford by being a playmaker with six tackles, three tackles for a loss and his first two sacks of his collegiate career.
DE Barryn Sorrell – Texas
While Texas lost a hard-fought 17-10 game to TCU, Sorrell's performance caught the attention of many. The sophomore, who has shown flashes this season while also being inconsistent, exploded on Saturday night with 11 tackles, three tackles for a loss, 1.5 sacks and 1 pass break-up. Now all Texas fans will be watching to see if this is start of some consistency for the young end.
LB Greg Penn III – LSU
While true freshman Harold Jenkins Jr.'s epic performance rightfully received most of the attention after Saturday's 13-10 victory over Arkansas, Penn quietly also had his best game with the Tigers. The sophomore finished with nine tackles, 2.5 tackles for a loss and one pass break-up, as LSU continues to develop a young, dynamic defensive unit.
RB Kyle Monangai – Rutgers
Despite a 27-21 loss at Michigan State, Monangai shined with a career-high 162 yards on 24 carries and three receptions for 20 yards. The Scarlet Knights' running game had struggled in recent weeks after a season-ending injury to promising true freshman Samuel Brown, but Monangai's performance on Saturday gives the offense more hope with two games remaining in the regular season.
QB Bert Emanuel Jr. – Central Michigan
Considering the true freshman had only played in one game this season, his performance last week against Buffalo was one to remember. While he only completed 1 of 3 passes for 22 yards, his legs tore apart the Bulls' defense with 293 yards and three touchdowns on 24 carries during the victory which kept the Chippewas in bowl contention.