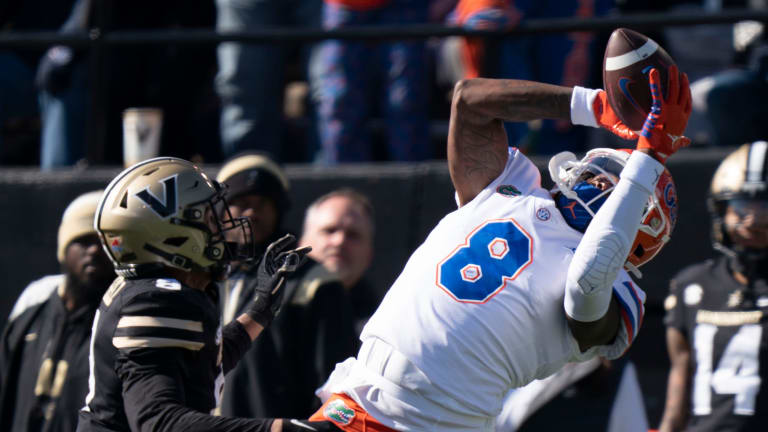 Week 12 Breakout Players – Daejon Reynolds explodes for the Gators
Who came from out of nowhere to help their teams?
Daejon Reynolds – Florida
After grabbing one reception during his true freshman season and only three through his first six games this fall, Reynolds was not on the radar for many Florida fans heading into the Vanderbilt game on Saturday. While the Gators did lose the game in an upset, Reynolds shined with eight receptions for 165 yards and two touchdowns in one of the more unexpected performances of the season.
Brendan Mott – Kansas State
Mott made little impact on the field during his first two seasons in Manhattan but started to contribute this fall. On Saturday against West Virginia, he enjoyed his best collegiate game to date though, with eight tackles, three tackles for a loss and three sacks in the victory. He has positioned himself to be a mainstay on the defensive unit in 2023.
Michael Ezeike – UCLA
Ezeiki showed some random flashes during his time in Los Angeles but had his most productive performance on Saturday night against USC. Despite the loss, he finished with four receptions for 44 yards and two touchdowns, which doubled his total for the season.
CJ Goetz – Wisconsin
Goetz has established himself as an important part of the Wisconsin defensive unit this fall. He has been especially impressive the last two games against Iowa and Nebraska, but his playmaking abilities against the Huskers on Saturday during an important one-point victory stood out. Finishing with seven tackles, 2.5 tackles for a loss and one pass breakup, he continues to improve his overall game this season.
Jordan Moore - Duke
Moore has become a reliable receiving weapon for the Blue Devils this season, with 35 receptions coming into their game at Pittsburgh on Saturday. But not many people expected his explosion against the Panthers with 14 receptions for 199 yards and one touchdown. What is more impressive is that he played quarterback last season so the receiver position is still new to him.
Mehki Shaw – San Diego State
The San Diego State passing offense was slow to wake up this season but has been sparked in recent weeks. One reason has been the steady play of Shaw, who has become a reliable weapon. On Saturday at New Mexico he took his game to another level though with six receptions for 120 yards and two touchdowns.