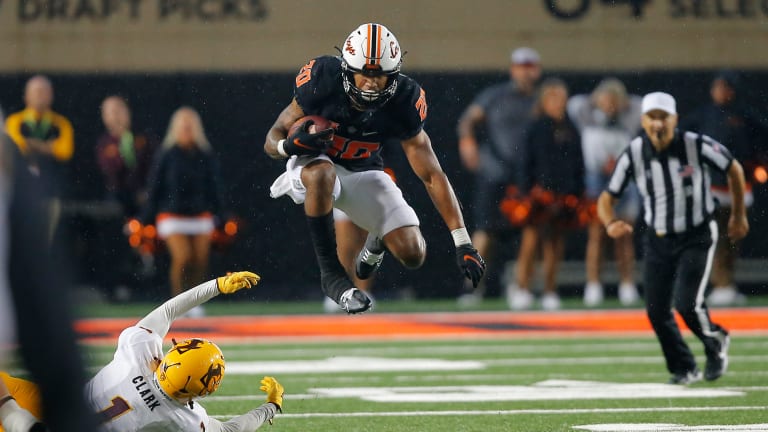 Week 2 Breakout Players
What unexpected names stepped up big this weekend?
RB Khalan Laborn – Marshall
The skinny: Laborn has had an interesting collegiate ride since signing with Florida State in 2017. After rushing for 297 yards during his time with the Seminoles, he entered the transfer portal and made a pitstop at a JUCO before finding a new home at Marshall. On Saturday, during a huge road win at Notre Dame, Laborn enjoyed his best collegiate game with 163 yards and one touchdown on 31 carries.
---
LB Drew Sanders – Arkansas
The skinny: Sanders showcased his potential in spurts during the 2021 season at Alabama, but a transfer then found him at Arkansas. On Saturday, he played at a new level, totaling 11 tackles, three tackles for a loss, two sacks and two forced fumbles as the Razorbacks won at home against South Carolina.
---
RB Dominic Richardson – Oklahoma State
The skinny: Richardson was a productive back during the 2021 season, but on Saturday he established himself as a possible star for the remainder of this season. He rushed for 131 yards and one touchdown on 27 carries, plus added five receptions for 44 yards, during the Cowboys 34-17 victory over Arizona State.
---
S Darius Joiner – Duke
The skinny: Joiner started his collegiate career at Jacksonville State, before transferring to Western Illinois, where he enjoyed an FCS All-American season in 2021. At that point he decided to take his game to the FBS level, which brought him to Duke. In his second game with the Blue Devils, Joiner proved that he belonged, totaling a team-leading 13 tackles and one tackle for a loss in the 31-23 victory over at Northwestern.
---
TE Clay Cundiff – Wisconsin
The skinny: The Badgers suffered a surprising defeat, but they may have found a receiving threat to add to their passing game. Cundiff had four receptions for 59 yards and both of the team's touchdowns in a 17-14 loss to Washington State. This is coming after a season when he totaled three receptions for 86 yards and one touchdown.
---
S Kitan Oladapo – Oregon State
The skinny: Oladapo had a productive season in 2021, but against Fresno State on Saturday he produced his best collegiate game. Finishing the game with 15 tackles, 1.5 tackles for a loss, one sack and one pass break-up, he is strong, hard hitting safety who has become a leader on the defensive unit.