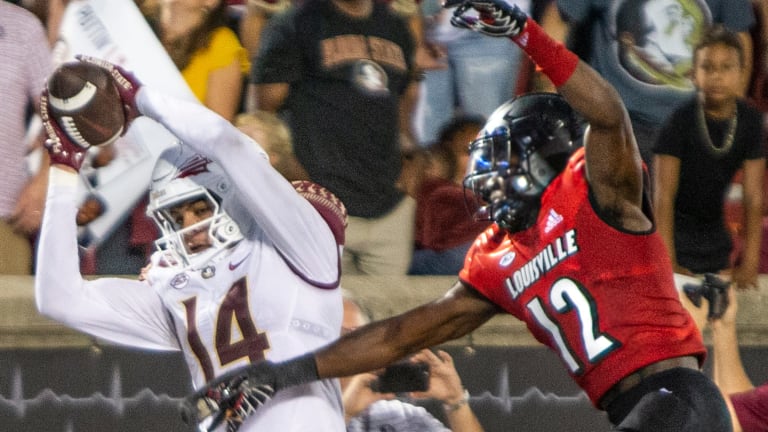 Week 3 Breakout Players
Who came from out of nowhere to help their teams?
WR Johnny Wilson – Florida State
Transferring over from Arizona State, Wilson totaled 12 receptions for 154 yards and a touchdown during his 2021 season at Tempe. On Friday night at Louisville, he finished with seven receptions for 149 yards and two touchdowns in a huge victory for the Seminoles.
DB Jahdae Barron – Texas
During a 41-20 victory over UTSA, Barron finished with six tackles and his first career interception, which he returned 44 yards for a touchdown. His tackle total was a career-high, after he finished the entire 2021 season in Austin with 18 tackles.
WR Devaughn Vele – Utah
Vele only had three receptions for 38 during the 35-7 victory over San Diego State, but two of those receptions went for touchdowns. Coming into the 2022 season with only one career touchdown reception, if he could continue to develop into a consistent weapon, it will only make the Utes more of a threat in the PAC 12.
RB Samson Evans – Eastern Michigan
Evans was a touchdown scoring machine in 2021 for the Eagles, as he totaled 13 on the ground, but that came on only 316 rushing yards. On Saturday night, in a huge victory at Arizona State, he rushed for 258 yards and one touchdown on a bulldozing 36 carries.
RB Roman Hemby – Maryland
The redshirt freshman burst onto the scene in the season opener with 114 yards on only seven carries, but his performance on Saturday was more memorable considering the improved competition. In a tough game against a quality SMU team, Hemby rushed for 151 yards and one touchdown on only 16 carries as he is quickly becoming a consistent threat for the Terps offense.
WR Dominic Lovett – Missouri
Lovett grabbed his first two touchdown receptions of his collegiate career during a 34-17 victory over Abilene Christian. He finished the game with seven receptions for 132 yards and the two scores. During his 2021 true freshman season in Columbia he totaled 26 receptions for 173 yards.