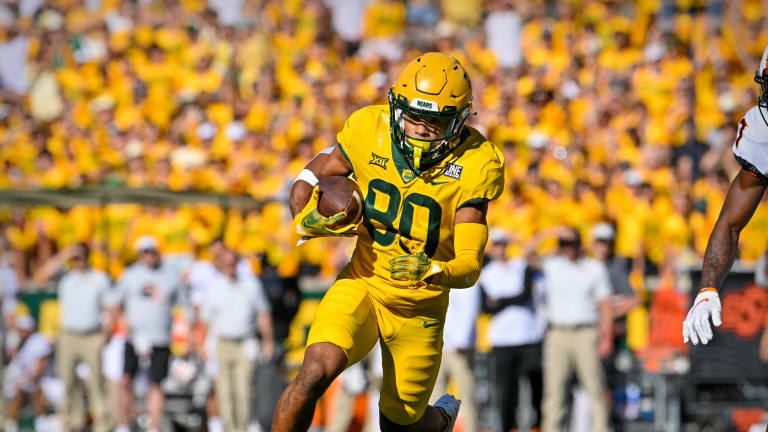 Week 5 Breakout Players
Who came from out of nowhere to help their teams?
WR Monaray Baldwin – Baylor
Going into the Oklahoma State game, Baldwin had totaled six receptions for 94 yards and one touchdown in his first 11 games with the Bears. Then he had seven receptions for 174 yards and two touchdowns during the loss to the Cowboys. Baylor has a bye week before heading to West Virginia next Thursday night, which is when it'll be more known if the Bears have found a new consistent offensive weapon for quarterback Blake Shapen.
RB Devin Mockobee – Purdue
After showing some potential during the first few games of the season, the redshirt freshman hit a new gear during a win at Minnesota with 112 yards and one touchdown on only 11 carries. While Dylan Downing is likely to remain the main focus out of the backfield at Purdue for the time-being, Mockobee is averaging 6.7 yards per carry and provides and exciting spark which will keep him involved in the offense.
DB Jaylon Carlies – Missouri
Carlies had already established himself as a valuable piece of the Tigers' defensive unit this fall, but his performance on Saturday against No. 1 Georgia opened even more eyes. Finishing with a team-leading 13 tackles and 2.5 tackles for a loss, his impressive level of play was a catalyst for Missouri's near shocking victory.
LB Leon Lowery – Syracuse
It is difficult to take away too much (positive or negative) after a 59-0 victory over Wagner, possibly the worst FCS team in the nation, but the play of Lowery could help the Orange through the remainder of this season. The position has already dealt with some injuries in 2022, so Lowery leading the team with seven tackles and an even more impressive 3.5 tackles for a loss could have earned him more playing time as the schedule gets much more difficult in the coming weeks.
Jake Bobo – UCLA
While Bobo already broke out at Duke, since his transfer to Los Angeles earlier this year, his performance against Washington is what the Bruins were hoping for when they got him via the portal. He had been productive during his first four games but excelled against the Huskies with six receptions for 142 yards and two touchdowns. With UCLA undefeated and now ranked, his continued excellence will be needed if the Bruins truly hope to make a statement this fall.
RB Harrison Waylee – Northern Illinois
Waylee had totaled over 1,000 yards on the ground during his first two seasons with the Huskies', but never had a game like he did against Ball State on Saturday. Rushing for 230 yards and three touchdowns on 30 attempts, the carried Northern Illinois to their first victory of the season. Similar game breaking performances like this will be necessary if the Huskies hope to turn their season around.