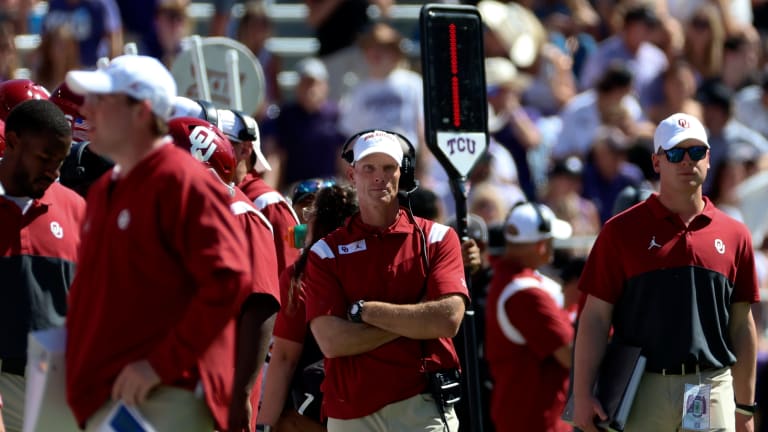 Week 5 Maintenance Report
Who needs an immediate fix, and who can afford to be patient?
Issue: Oklahoma Defense
Diagnosis: PATIENCE
The honeymoon phase dissipated for new head coach Brent Venables. Their 55-24 loss at the hands of TCU was the first time that a Sooner defense gave up 50+ points since the 2019 College Football Playoff Semifinal against LSU 63-28.
The first thing that jumps off the page in the game against the Horned Frogs was the number of broken plays and blown assignments by the Sooners' defense that allowed the Horned Frogs to gain 668 yards of total offense.

Here is something to keep in mind, the Sooners have finished 50th or worse in scoring defense in seven of the previous ten seasons, so it isn't like Oklahoma Sooners had the college football equivalent to the '85 Bears in Norman. 
Conversely, between 2013-2021, each of Venables' Clemson defenses finished in the Top 25 in scoring nationally and the only time they didn't in the Venables era was in his first season in 2012, where Venables improved the defense from 81st nationally in 2011 to 46th. Sooners fans need to be patient and allow Venables to get his system in place in Norman. 
---
Issue: Wisconsin Coaching Situation
Diagnosis: PATIENCE
I will go on the record and feel Wisconsin's knee jerk reaction to terminate Paul Chryst was due to the potential of losing fast rising defensive coordinator Jim Leonhard. If indeed Wisconsin is going to go with Leonhard, patience needs to be practiced here.
The question is what is the goal in Madison?
Chryst never finished below third in the Big Ten West, won six of seven bowl games, including two New Year's Six Bowls in three opportunities, and won over 70% of his Big Ten conference games. Consider the following, Barry Alvarez never strung together a run like Chryst did and Bielema was willing to leave after securing a third consecutive Rose Bowl berth.
Leonhard is walking into a similar situation that Kirby Smart did at Georgia. Smart's predecessor Mark Richt won a lot of games but didn't ever win the big ones and Smart turned that around.
For Leonhard or whoever becomes the next Wisconsin coach, they will need the patience from fans and then win the big games against the Big Ten East powers and win a Big Ten championship along the way.
---
Issue: Texas A&M Offense
Diagnosis: FIX
The Aggies quarterback carousel took an interesting spin Saturday after Max Johnson injured his hand in a 42-24 loss to Mississippi State. 
Aggie head coach Jimbo Fisher updated Johnson's status, "We'll go day-to-day," Fisher said when asked about Johnson's status. "He banged his hand. We'll go day-to-day… We'll get Haynes (King) and Conner (Weigman) ready to play if Max can't go."
Fisher began the season saying he would name a starting quarterback we he knew he had one and it seems no one has been able to take command of the job. The Aggies offense is currently the 108th in scoring offense and Fisher hasn't produced a Top 25 scoring offense since his first season in 2018.
Alabama won't help the Aggies offensive ship to be righted but at some point Fisher has to demonstrate the offense is progressing in his system or begin to look for someone to coordinate the offense. 
---
Issue: Pitt Offense
Diagnosis: FIX
Over the summer, Pitt head coach Pat Narduzzi had sharp criticisms of Mark Whipple's offense, saying the coordinator leaned too heavily on a pass offense that was No. 8 in the country last season.
This season, the inconsistencies in the run and pass offenses cost the Panthers against Georgia Tech with any remote chance for Pitt to make the College Football Playoff. In their matchup with the Yellow Jackets, Pitt running back Vincent Davis had two costly fumbles after running back Israel Abanikanda left the game with an upper body injury.
Pitt quarterback Kedon Slovis had a solid game going 26 for 45 305 yards and three touchdowns with an interception, he wasn't able to connect on the key throws and Pitt was inept on third downs going 2 for 12. The Panthers need to find consistency in their offense and take care of the football if it wants any chance at a New Year's Day or Six bowl berth. 
---
Issue: Michigan State finding consistency in all facets
Diagnosis: FIX
It seems the season is beginning to slip away from Mel Tucker. After his candid, "Right now, I'm a horseshit football coach" comment after the Washington Huskies game, the Spartans have endured a second lopsided defeat against Minnesota Golden Gophers and then experienced a second half offensive outage and special teams blunders against Maryland.
Those Michigan State special teams foibles included a missed field goal, having another one blocked, and botching an extra point because of a bad snap. Offensively, the Spartans had 72 total yards in the second half, 62 of them happened on a 15 play drive that ended at the Terrapin 19 yard line when quarterback Payton Thorne failed to convert a fourth and 10.
The Spartans haven't played a complete game in all facets against a Power 5 opponent this season. If they want to at least return to a bowl game, Tucker will need to start earning the $95 million he signed back in the summer by getting his team to perform at all facets.