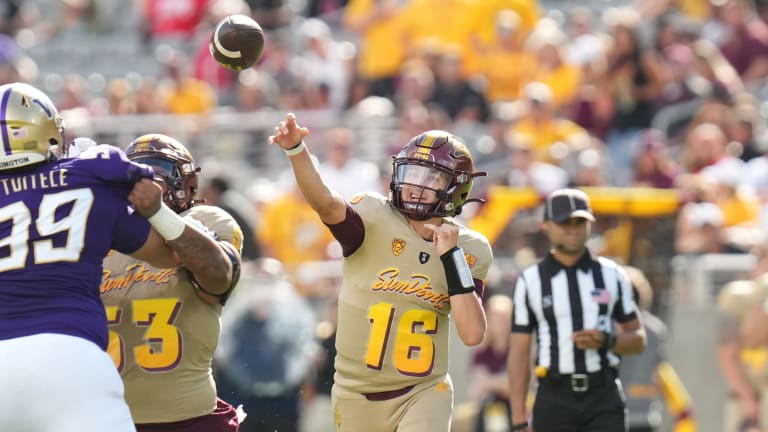 Week 6 Breakout Players
Who came from out of nowhere to help their teams?
QB Trenton Bourguet – Arizona State
With starting quarterback Emory Jones going down with an injury during the second quarter on Saturday night against Washington, Bourguet entered the game and led the Sun Devils to an unexpected victory. Not only did he manage the game very well, but he also impressed statistically by completing 15 of 21 passes for 182 yards, three touchdowns and no interceptions. The question will now loom regarding who will start once Jones is fully healthy with Bourguet's performance suddenly creating a quarterback controversy in Tempe.
DL Fadil Diggs – Texas A&M
Plenty of publicity has been given to the younger players on the Aggies' defensive line, but it was Diggs who shined at Alabama on Saturday night. The 2020 signee has shined in spurts during his time in College Station but put it all together against the Tide with six tackles, three tackles for a loss, two sacks and two forced fumbles.
DL Darrell Jackson Jr. – Miami-Florida
Jackson was one of the many transfers that the Canes added during the off-season, but until the North Carolina game, he had been off to a slow start. Finishing the game with seven tackles, 1.5 tackles for a loss and one sack, this may have been the coming out party for a defensive lineman who has the potential to be one of the best in the ACC.
DB Quinyon Mitchell – Toledo
Mitchell, who did not have an interception during his time with the Rockets, totaled four during a 52-32 victory over Northern Illinois. To make it even more memorable for Mitchell, he returned two of the picks for touchdowns. He also added three tackles during the victory.
WR Chimere Dike – Wisconsin
After the sudden dismissal of head coach Paul Chryst, would the Badgers' offense see any noticeable changes? Well, if the first game is a sign of things to come, Dike could be in for a huge second half of the season. He smashed career highs for receptions (10), receiving yards (185) and receiving touchdowns (3) in a game during a 42-7 victory at Northwestern.
WR Quentin Skinner – Kansas
While the Jayhawks did suffer their first loss of the season to TCU, a new offensive weapon may have emerged. Skinner set career highs with four receptions for 98 yards and two touchdowns during the 38-31 loss, while showcasing an impressive combination of speed, route running and hands.