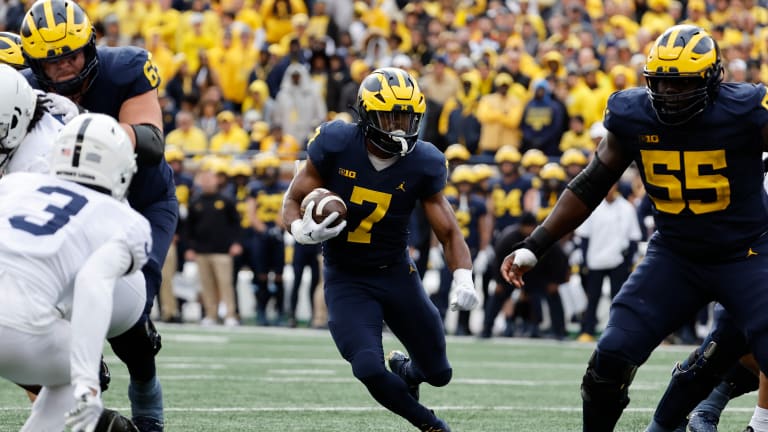 Week 7 Breakout Players
Who came from out of nowhere to help their teams?
RB Donovan Edwards – Michigan 
While there was never much doubt that Edwards would excel at Michigan, playing behind All-American candidate Blake Corum has somewhat slowed his development due to the lack of playing time. So, when would fans see Edwards reach his potential? That was answered on Saturday when Edwards rushed for 173 yards and two touchdowns on career-high 16 carries during a blowout victory over Penn State. Don't expect Edwards to suddenly supplant Corum, but this does further establish Michigan's running attack as one of the best in the country.
DB Tamorian McDonald - Tennessee
Finishing with a career-high nine tackles and one tackle for a loss, McDonald best collegiate game came during Tennessee's memorable home victory over Alabama. He had shown promise throughout the fall, but put it all together at the perfect time for the Vols. His emergence gives the defensive unit another weapon to rely upon with #17 Kentucky and then #1 Georgia looming on the upcoming schedule.
RB Tony Mathis Jr - West Virginia
Mathis had already been a steady contributor all season long, but with freshman CJ Donaldson out with an injury, would he be able to successfully carry more of the workload? He responded with a career high 163 yards and two touchdowns on 22 carries as the Mountaineers defeated Baylor on Thursday night. With Donaldson in concussion protocol, it is unknown when he will return, but even if there is a delay Mathis looks more than ready to handle more of the load.
WR Colbie Young - Miami (Florida)
The JUCO addition was off to a slow start during his first season in Coral Gables until he burst onto the scene against Virginia Tech with nine receptions for 101 yards and one touchdown. Young was buried on the depth chart through most of September but has emerged as an unlikely hero in Miami's passing game. With he and quarterback Tyler Van Dyke quickly establishing a connection, they should continue to produce through the remainder of the season.
WR Montana Lemonious-Craig – Colorado
Up until the victory over Cal on Saturday, not too much has gone right in Boulder this season. A big reason for Saturday's success was the play of Lemonious-Craig, who finished with eight receptions for 119 yards and one touchdown, which was the winning score in overtime. While the Buffaloes continue to experience inconsistencies at the quarterback position, if they are able to improve on that, Lemonious-Craig looks like an offensive piece that can effectively contribute.
RB Kevorian Barnes - UTSA
Considering Barnes was not really involved in the offense or the gameplan until Trelon Smith left the game with an ankle injury, his performance during a 30-10 victory over Florida International came as a huge surprise. After rushing for 128 yards and two touchdowns on 20 carries and also adding one reception for 13 yards, will this mean more playing time for the redshirt freshman during the second half of the season?