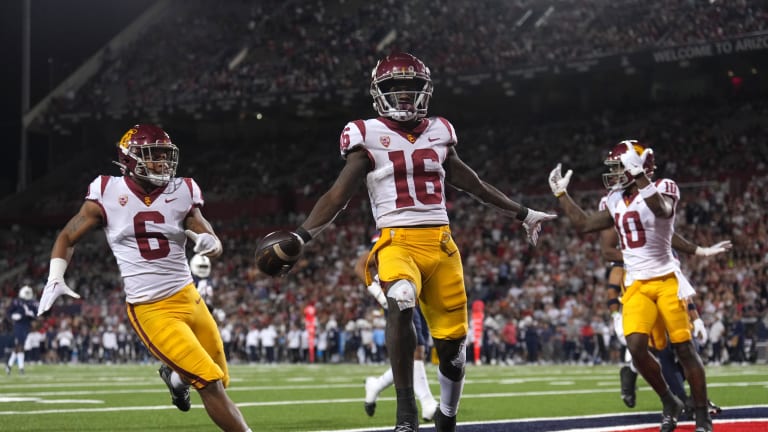 Week 9 Breakout Players – Another WR shines for USC
Who came from out of nowhere to help their teams?
WR Tahj Washington – USC
With Jordan Addison still out with an injury, Washington picked a good time to have his first 100+ yard, multi-touchdown game with the Trojans. Grabbing seven receptions for 118 yards and two touchdowns during the 45-37 victory over Arizona, his improved play could prove to be extremely valuable considering the uncertainty of Addison's return to the field.
DL Leonard Taylor – Miami-Florida
Taylor has shown flashes of stardom since he first hit the field in 2021, but on Saturday against Virginia during a 4OT victory over Virginia, he performed like the best player on the field. Finishing with six tackles, four tackles for a loss and 1.5 sacks, he has become a valuable part of a Miami defense which despite some struggles, has the potential to lead the Canes to a couple of more wins this fall.
WR Kade Warner – Kansas State
Warner has been productive at Kansas State since his transfer from Nebraska prior to the 2021 season, but he had his best performance to date against Oklahoma State during a 48-0 victory. Finishing with five receptions for 97 yards and two touchdowns, his first multi-touchdown collegiate game, Warner also seems to have established a nice chemistry with quarterback Will Howard, who is replacing the injured Adrian Martinez.
LB D'Eryk Jackson – Kentucky
While Kentucky did lose convincingly at Tennessee on Saturday and lost start linebacker DeAndre Square in the process to an injury, the continued improved play of Jackson has been noticed by many. Jackson actually slid into a starting role when another linebacker, Jacquez Jones, went down with an injury a couple of weeks ago, but it wasn't until Saturday when he put everything together. Finishing with a career-high 14 tackles and one tackle for a loss, his improved play will prove to be even more valuable now that Square is also likely to miss some time.
DE Pryce Yates – UConn
After redshirting in 2021, Yates has quickly established himself as a valuable part of what has become a surprisingly improved UConn defensive unit. On Saturday, in a big victory over Boston College, Yates enjoyed the best game of his collegiate career with seven tackles, four tackles for a loss, 2.5 sacks and one forced fumble to move the Huskies two wins away from Bowl eligibility.
LB Jay Higgins – Iowa
After two rather uneventful seasons with Iowa, Higgins has earned more playing time this fall while also seeing his production level increase. That was definitely the case on Saturday when he finished with a career-high 12 tackles, after coming into the game with 16 tackles through the first seven games this season. Defense has obviously led the way for the Hawkeyes this fall so the emergence of another valuable piece only makes the unit more formidable during the last few games of the season.