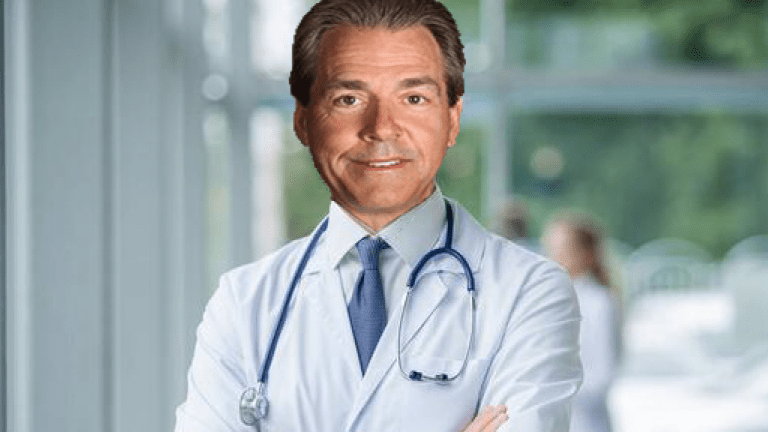 Who Should Attend Saban's Coaching Rehab
Five coaches who would benefit from Saban rehabilitation including some surprise names
Alabama has been a haven for football coaches to get a glimpse at the process head coach Nick Saban has engineered to make the Crimson Tide. In essence Saban has earned his PhD in fixing, refining, and restarting plenty of promising coaches careers. 
With Bill O'Brien most likely going to be the latest coach rehabilitated, here are five coaches who probably should consider checking into Nick Saban's Coaching Rehabilitation in Tuscaloosa.
---
Scott Frost
Prognosis: Frost clearly lacks leadership and structure by not showing up to meetings on time, not following up with recruits, even having assistants skip his chain of command to alert administration of poor work habits.
On His Record: Before becoming Nebraska head coach, Froste was an offensive guru in Oregon averaging 44 points per game during his three seasons. He was able to guide UCF to the (Colley Matrix) national championship in 2017. As a player, he was coached by Bill Walsh at Stanford and Tom Osborne at Nebraska as a quarterback. In the NFL, he played safety for the New York Jets on defenses coordinated by Bill Belichick. 
Diagnosis: Leadership Reps and Accountability is what Frost needs. Being a CEO of an organization, as Dr. Saban puts it, takes some tact. 
Bryan Harsin
Prognosis: Harsin has had rumors swirl about infidelity while the administration feels he lacks the charisma and public facing touch a school needs from one of its most visible figures. Also the lack of winning is hurting as well.
On His Record: Coach Harsin spent nearly two decades on the Blue Turf at Boise State where he served at various capacities, he left after the 2010 season to be an offensive coordinator and quarterbacks coach at Texas where he help guide the Longhorns to being in the Top 25 in offensive statistics nationally. In 2013 became Arkansas State head coach and guided them to a Sun Belt Championship. Returned to Boise State where he won a Fiesta Bowl and three Mountain West championships. 
Diagnosis: Dr. Saban will explain how to control the situation and have boosters and administration giving you raises every year, because it looks like Harsin lost control on The Plains of his situation.
As he writes in his book How Good do You Want to Be?, 
"The major by-product of creating a mission statement and vision for you or your organization is that it creates a culture of expectations. If you have clearly defined who you are and where you want to go, then there is no longer any need for debate about it… everyone knows what to expect." 
Plus the Doctor loves gleaning any intel on the Tigers. 
Neal Brown
Prognosis: Brown seems lost in his first Power 5 head coaching position at West Virginia. He wasn't aggressive enough in the fourth quarter against Pitt in the opener and losing to Kansas is never acceptable. 
On His Record: Before becoming head coach in West Virginia, Brown put together a 31-8 record at Troy in his final three seasons, engineering an upset at LSU and getting three bowl wins. 
Diagnosis: Brown, like Harsin 
"Change is scary, but it's inevitable. For some, "change is worse than suffering; they would rather be unhappy in their present state than take the risk of change to find happiness. Don't be one of those people." - Nick Saban, How Good do You Want to Be?
Matt Rhule
Prognosis: Rhule went to the NFL filled with enthusiasm and embracing a difficult rebuild. The NFL has chewed and spit out Rhule having lost 25 of his 35 games in the NFL. 
On The Record: Matt has a track record in college of rebuilding Temple and Baylor guiding the Owls to back to back 10 win seasons in 2015 and 2016 and guiding Baylor to the Sugar Bowl in 2019 after an 11 win campaign. 
Diagnosis: Dr. Saban knows the rigors of the NFL and knows that isn't his flavor of coaching. He would explain to Rhule that is okay to focus on college and that fulfillment can be found there as well.
 Jimbo Fisher
Prognosis: Fisher, who was once a quarterback whisperer, has had problems developing a quarterback and identifying starting quarterbacks. He seems to be enduring additional stress from feeling pressure to perform. 
On The Record:  The former national championship winning coach has sent quarterbacks E.J. Manuel, Jameis Winston, and Kellen Mond to the NFL. But he seems to be perplexed between a trio of quarterbacks in College Station. 
Diagnosis: Dr. Saban believes if you are being paid $75 million you need to produce better results than 8-4 seasons and losses to Appalachian State. 
Dr. Saban is also willing to look past a spat he had with Jimbo over the summer. 
Refinement in his process is needed.