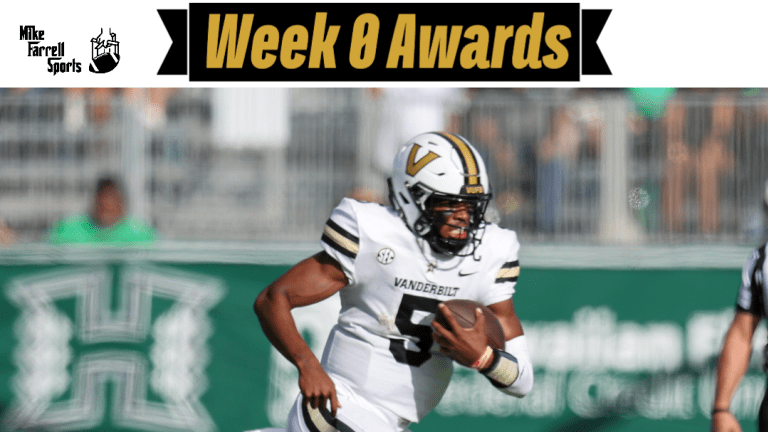 Week 0 Awards
Who stood out on college football's opening weekend?
If week 0 is a harbinger for the 2022 season, then we are in for a treat. Let's take a look at who had the best (and worst) weekend.
---
Turn on the Afterburners:
Mike Wright, Vanderbilt
Clark Lea and the Commodores kicked off the season with a bang, hanging 35 points in the third quarter alone en route to a 63-10 drubbing of Hawai'i in Timmy Chang's debut as head coach at his alma mater. Vanderbilt quarterback Mike Wright tore up the Rainbow Warriors with his legs, running for 163 yards on 13 carries, including this play where he showed off the speed that made him a top-250 player in the country back in 2020. (And props to receiver Will Sheppard for absolutely laying the wood on a Hawai'i DB).
---
Run it Back:
Nebraska Losing by One Score
Scott Frost must be a glutton for punishment. The Huskers blew not one but two double-digit leads in Ireland against what should have been a wholly outmatched Northwestern squad. Nebraska shot itself in the foot more than once, but what was especially perplexing was an onside kick after going up 28-17 with nine minutes left in the third quarter. After that, Northwestern scored 14 unanswered and win the game.
---
Flawless First Impression:
Drake Maye, North Carolina
In his first start, the former four-star dazzled, throwing for five touchdowns, displaying nimble feet, and not turning the ball over once. While the Tar Heels' defense struggled early with FAMU quarterback Jeremy Moussa, Maye kept lighting up the Rattlers with an assist from new starting tailback Omarion Hampton, who topped the century mark on the ground and added two scores. It also doesn't hurt when you've got arguably the best receiver in the conference going up and catching balls like this:
---
Don't Forget About Me:
Chase Brown, Illinois
When it comes to running backs in the Big Ten, the conversation is always about TreVeyon Henderson, Braelon Allen, and Blake Corum. But Chase Brown deserves to have a seat at that table, and he showed why on Saturday with 167 yards from scrimmage and three touchdowns. With an offensive line that is clearly on the upswing, Bret Bielema has the Illini pointing in the right direction.
---
Ballhawk:
Isaiah Essissima, Nevada
The former Wake Forest transfer had not one but two picks in the Wolfpack's opener at New Mexico State. So while Nevada's offense was nothing to write home about, the defense as a whole was outstanding, leading them to the 23-12 victory.
---
Slow Your Roll:
Utah State
I get it, Blake Anderson was wildly successful in his first year in Logan, and expectations are high entering the season (yours truly even picked them to win the division). But let's be real, you don't want that smoke.