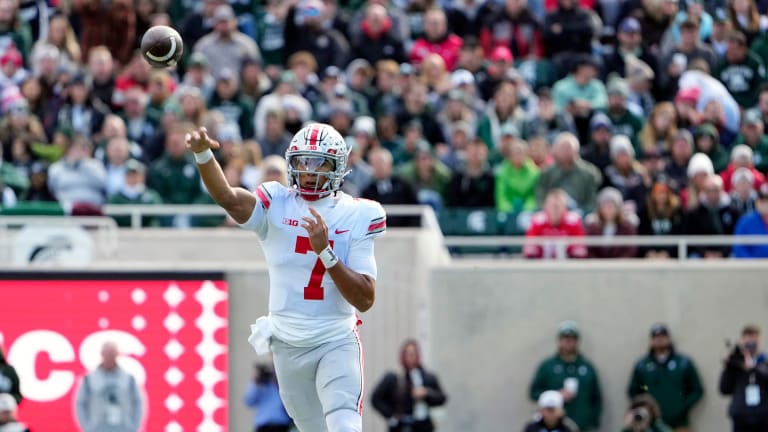 2023 NFL Draft Mid-Season Quarterback Rankings
As we are heading towards the halfway mark of the 2022 College Football season, let's take a look at the quarterback prospects of the 2023 NFL Draft class.
Overall, the 2023 quarterback draft class looks like a solid one, with a couple of high-level prospects at the top, some raw yet high-upside signal-callers and some refined but a little older players. By taking a look at the NFL, we can also already point out which pro franchises could be looking forward to add a new quarterback once next April comes around. Let's then take a deep dive into the class and see who has the potential to become a true franchise-changing signal-caller at the next level. The quarterbacks are ranked based on the order I think they will get picked, my personal rankings will be highlighted below the analysis.
---
1. C.J. Stroud, Ohio State
6'3", 218 lbs., redshirt sophomore
Size-wise, Stroud is definitely a more prototypical prospect than Bryce Young. The SoCal product is an efficient pocket passer who's still able to create plays outside of structure when asked or required to. He has a strong arm and he's effective working down the field. Stroud works in a pro-style well organized offense and loaded with talent at every position that makes things way easier for him. This factor could both be good or bad, as in the NFL he will for sure have less weapons than he has at Ohio State right now, something former Buckeye Justin Fields is dealing with currently at the pro level.
Stroud plays a lot like Cowboys quarterback Dak Prescott, emerging as a well rounded signal-caller who can tear defenses apart both by taking advantage of his arm strength and touch. Against pressure, he can be seen having issues with his footwork, but that's definitely something fixable. I expect C.J. Stroud to be a top-5 selection in the next draft and potentially the 1st overall pick.
Personal ranking: #1
---
2. Bryce Young, Alabama
 5'11", 194 lbs., redshirt sophomore
Given his size and lean build, Bryce Young is far away from having prototypical size for the position, but the traits he displays on the field make up for it and still makes him a top-caliber quarterback prospect. Young is a very accurate quarterback who's able to make things happen at all three levels of the field without issues: he excels at throwing in rhythm while being a great decision maker and displaying the rare ability to take what defenses gives him, without forcing plays.
Despite not having an elite arm, he's a valid field stretcher who can stress defenses vertically. He's also cold blooded against pressure and in the clutch, also showing the ability to create plays out of structure as he can be labeled as a dual-threat quarterback. The NFL might be worried about his durability even though he hasn't suffered any serious injury throughout his career. Despite that, I still expect him to be selected in the top-5.
Personal ranking: #2
---
3. Will Levis, Kentucky, 
6'3", 232 lbs., redshirt senior
Levis has dream tools for the position: a cannon for an arm, a solid build and the ability to produce on the ground and out of structure. According to some reports coming from anonymous NFL scouts, it seems like some franchises have him as their top ranked quarterback prospect. Despite Levis' big-time tools, he still isn't particularly advanced as a passer: he struggles with accuracy, decision making, he's streaky from drive to drive and needs to improve going through progressions. Levis though does a good job at stretching the field vertically, putting effortless velocity on his throws and extend plays with his legs. 
NFL teams see Will Levis as a Josh Allen-type of prospect: great raw traits and tremendous upside. Although I expect him to get selected in the 1st round, potentially in the top-10, I don't think Levis is a 1st round caliber prospect. Betting on a signal-caller who needs that amount of development is risky, he needs to end up in the right environment and with a capable coaching staff, although he could end up being a low end starter or backup level quarterback.
Personal ranking: #6
---
4. Hendon Hooker, Tennessee
6'4", 218 lbs., redshirt senior
Hooker has been able to go through a significant development process during his college career: he went from being a toolsy yet raw signal-caller to a proper pro-style quarterback able to be consistent in the passing game, accurate and effective when throwing down the field. Plus, Hooker is a solid athlete who can extend plays and have an impact in the running game. 
Hooker's biggest red flag though, is his age: are teams willing to spend a prime pick on a quarterback who will be 25 once the Draft comes around? He's effectively the same age as Justin Herbert, Lamar Jackson, Kyler Murray and Joe Burrow, and he's yet to take an NFL snap. Hooker is a talented signal-caller who can be a reliable starter at the NFL level, so while I'm expecting him to be selected around the 2nd round, he has upside to end up getting selected in the 1st.
Personal ranking: #3
---
5. Jaren Hall, BYU
6'1", 205 lbs., redshirt senior
Jaren Hall's situation is similar to Hendon Hooker's. Hall is a talented and modern quarterback with above average arm talent and ability to produce out of structure. But at the same time, he too will be 25 once the draft comes around. Hall also is a wise decision maker who only has 7 interceptions to his name between last year and this, while also displaying solid accuracy. 
It will all come down to if NFL teams thinks he will be ready to start from Year 1, because if not, he would see the field for the first time at 26, something pretty rare. Hall is a talented quarterback with the tools to be a starter at the next level and I expect him to be selected around the bottom half of the 1st round, or second round. Though, I think investing a prime pick on an older quarterback prospect isn't ideal.
Personal ranking: #7
---
6. D.J. Uiagalelei, Clemson
6'4", 235 lbs., junior
After a bad sophomore campaign, Uiagalelei is bouncing back by putting together a solid junior season and displaying why he was a stellar five-star recruit coming out of St. John Bosco. He possesses rare tools for the position such as an extremely strong and talented arm, a stout build and the ability to improvise when things don't work out on the offensive line. 
However, Uiagalelei is still prone to some mechanical mistakes, like his footwork and the tendency to not stepping into his throws often. Clemson's signal-caller though has massive upside as a quarterback able to make jaw-dropping NFL throws because of impressive combinations of arm talent, ball placement and velocity. While his development process is far from over, Uiagalelei has all the tools to be a successful NFL quarterback. I wouldn't be surprised to see teams taking as high as in the bottom of the 2nd round or early 3rd round.
Personal ranking: #4
---
7. Tanner McKee, Stanford
6'6", 226 lbs., junior
McKee is a more traditional quarterback prospect, he's actually pretty similar both from a style and skillset standpoint to former Stanford signal-caller Davis Mills, now with the Texans. McKee is a pocket passer who throws with accuracy, does a good job at going through progressions and can effectively make plays at all three levels of the field. 
Despite those traits he still needs to improve with his decision making, as he's still prone to force a considerable amount of throws.  Furthermore, the Corona, CA native doesn't offer much out of structure and on the ground. Although he displays crisp footwork within the pocket, his mobility is below average and caps his upside. McKee has the potential to be a low end starter or backup caliber quarterback given his traits and I would expect him to be selected in the late 2nd, early 3rd round range.
Personal ranking: #8
---
8. Anthony Richardson, Florida
6'4", 237 lbs., redshirt sophomore
Richardson entered his first season as a starter with sky-high expectations and he's going through some routine highs and lows typical of raw quarterbacks in their first seasons as starters. I truly believe that Richardson has some of the best raw tools we've seen in a quarterback prospect since Lamar Jackson, as he possesses an absolute rifle of an arm and he's also big-time dynamic in the run game, as well as when creating out of structure. 
Florida's signal-caller though is still raw as a passer, streaky, struggles with accuracy, ball placement and footwork. I wouldn't be surprised to see Richardson come back to the Gators next season in order to put another season of experience under his belt, because he possesses legit top-10 potential. If he decides to declare after this season though, Richardson would be a project quarterback who would need to sit quite some time behind a starter at the next level prior to be ready to lead an NFL offense, but given his rare tools, I would still expect him to get selected in the bottom 2nd, early 3rd round range. 
Personal ranking: #5
---
9. Tyler Van Dyke, Miami
6'4", 224 lbs., redshirt sophomore
Van Dyke is another quarterback prospect who entered the season under high expectations after seeing what he displayed in his first season as a starter. This season though, he has regressed in a pretty significant way. Miami is off to a bad start of the season and Van Dyke is struggling with consistency, accuracy and decision making. He's still able to produce explosive plays as he isn't scared to push the ball downfield, but he's still a pocket passer with some athletic limitations. 
He's a more traditional quarterback prospect who I fully expect to return to Miami in 2023 in order to improve both his game and draft stock. In case he declares at the end of the season though, he would likely be a mid to late round pick who projects to mainly be a backup at the next level. Coming back for his redshirt junior season though would probably be the best plan.
Personal ranking: #11
---
10. KJ Jefferson, Arkansas
6'3", 245 lbs., redshirt junior
Jefferson is still a work in progress as a prospect, but he offers intriguing upside given his physical tools, that could bring teams to take a chance on him in the middle to late rounds if he decides to declare. Jefferson is a dual-threat signal-caller with a thick build that makes him extremely tough to stop in the run game, where he excels thanks to his speed and explosiveness. 
As a passer he's still streaky and not particularly advanced, especially with his progressions, but he's still able to create big-plays by taking advantage of his rather strong arm and natural throwing motion. Jefferson has a fairly solid upside, and would need some development at the next level. 
Personal ranking: #9
* NC State's Devin Leary would be my #10 ranked quarterback prospect, even though I'm not expecting him to be selected among the first 10 quarterbacks at the next draft.