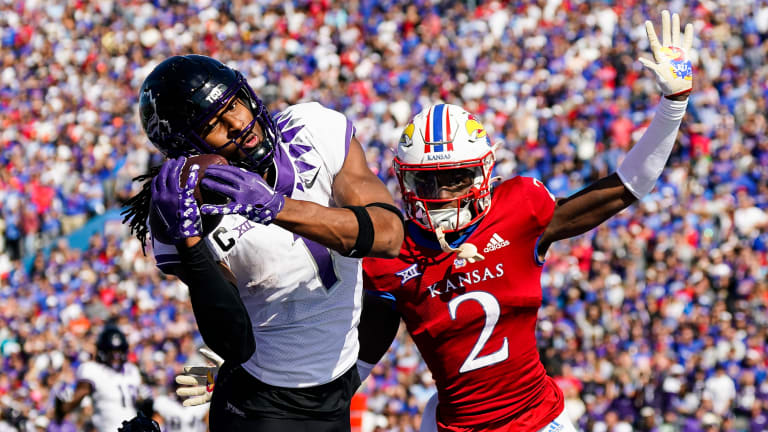 2023 NFL Draft: Risers and Fallers at the Halfway Mark
Which prospects are on the rise or took a step back after Week 6 of College Football?
With Week 6 of the 2022 College Football season officially in the books, let's take a look at some 2023 NFL Draft prospects. Some big names enjoyed a breakout week after an under-the-radar start of the season, while some other highly touted prospects are still struggling at keeping up with the pre-season expectations.
---
Risers:
Quentin Johnston
Wide Receiver, TCU
Quentin Johnston entered the season as one of the best wide receiver prospects in the country, but struggled from a production standpoint in 2021. In the Week 6 clash against an unbeaten Kansas side, Johnston had a signature performance by putting together 206 receiving yards and a touchdown on 14 catches, while displaying his whole repertoire. 
Once April comes around, Johnston could easily be the first wide receiver to hear his named called, as he brings to the table a tremendous combination of physical dominance and athleticism. The 6'4", 215 lb. pass catcher has all the tools to become a dominant NFL primary receiver. It is rare to see a big-bodied receiver to have his combination of size, speed, and agility.
C.J. Stroud
Quarterback, Ohio State
Although it may be hard for C.J. Stroud to be a riser, since he's pretty much considered a surefire top-5 pick in the next draft, he's making a strong case to be number one overall. With Bryce Young and Will Levis both  out because of injuries, this past weekend all the spotlights were on Stroud, who delivered a 361-yard, 6 touchdowns performance. Stroud is in line to have the 4th best QBR (94.8) in a single-season in College Football since 2004. 
Despite the fact that he doesn't possesses an elite arm or elite mobility, Stroud is a well-refined signal-caller who can simply make nearly any type of throw with consistency. His style of play is reminiscent of Dak Prescott's, putting his upside as a top-10 quarterback in the league.
Clark Phillips III 
Cornerback, Utah
Phillips is enjoying a true breakout season. Even in their loss to UCLA, he still had a huge impact. The junior cornerback collected his 5th interception of the season in only 6 games, this time an 80-yard pick-six. 
Despite not having the size of a prototypical NFL shutdown corner (5'10", 183 lbs.,) Phillips is technically advanced and displays tremendous natural instincts and anticipation. He's also emerging as a big-time turnover machine who can truly be an impact player at the next level.
---
Fallers:
Kayshon Boutte
Wide Receiver, LSU
Boutte entered the season as my number one ranked receiver, as a pass catcher who displayed legitimate Antonio Brown-like flashes. His 2021 season though ended early because of an ankle injury from which he's clearly still recovering. Add that to the fact that LSU doesn't have a high-volume passing offense, and you get why he's not producing at the level everyone expected him to. 
Boutte still has big-time traits that could make him a dominant NFL receiver, but before being considered a blue-chip prospects, he has to prove that the ankle injury he suffered is completely recovered.
Devin Leary
Quarterback, NC State
After a breakthrough 2021 season in which he collected 35 touchdowns to only 5 interceptions, Leary is only one interception away from that mark just 6 games into the season. His 51.6 QBR also ranks only 83rd in the country, down from a mark of 71.9 last season. 
Leary is struggling with consistency and although he doesn't possesses elite traits, he still displayed the ability to push the ball downfield with ease while being a top-tier decision maker. A high-level season could have pushed him into first-round consideration, but as of now, Leary is falling down draft boards.
Nolan Smith
Edge Rusher, Georgia
Even though Travon Walker, Jordan Davis and Jalen Carter were all better prospects than him in 2021, I still was expecting a more productive 2022 from Smith. While Georgia rotates their edge rusher frequently, making them tough to evaluate from a production standpoint, I still was expecting Smith to be more dominant on a snap-to-snap basis given his lethal combo of speed and athleticism. 
Smith is a bit undersized at 6'3" and 235 lbs., but still possesses the tools to provide value as a pass rush specialist. While he was a popular first-round pick during the summer, now his range may have fallen to somewhere in the middle rounds.