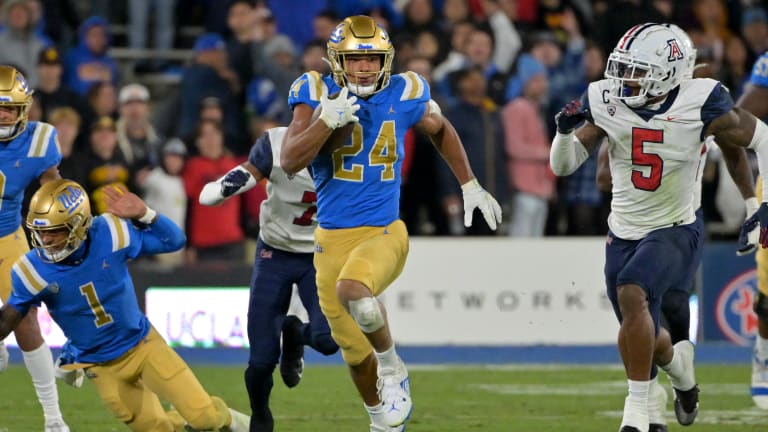 2023 NFL Draft: Week 11 Risers and Fallers
Which prospects are on the rise or took a step back after Week 11 of College Football?
With Week 11 of the 2022 College Football season officially in the books, let's take a look at some 2023 NFL Draft prospects.
---
Risers:
Zach Charbonnet
Running back, UCLA
In a historically loaded 2023 running back draft class, UCLA star runner Zach Charbonnet is a legit top-5 prospect at the position. The senior might not be as versatile as a pass catcher as Zach Evans or Jahmyr Gibbs, but he's the best pure runner in the class alongside Bijan Robinson. 
Charbonnet has prototypical size at 6'1", 220 lbs., and has tremendous big play ability, long speed and explosiveness for his frame. He's able to maintain efficiency while handling big-time workloads: in Saturday's clash against Arizona, the Michigan transfer was able to collect 7.5 yards per carries on 24 attempts. Charbonnet has everything needed in order to be a high-level bellcow back right out of the gate in the NFL.
Michael Penix Jr.
Quarterback, Washington
The Indiana transfer has been one of the most prolific and advanced signal-callers in the country and he has been able to reach a whole new level in his development process as a prospect. Penix has always been a pocket-passer with a talented arm, but at Indiana he was inconsistent, not particularly accurate, and inefficient. In his first year at Washington, he's turning around the narrative about his profile displaying accuracy at all three levels of the field, impressive decisions making, and well above-average efficiency (his 79.3 QBR is good for the 12th best in College Football). Penix has a legit chance to be selected in the middle rounds and has the potential to compete for a starting spot in the NFL.
Lathan Ransom
Safety, Ohio State
Ransom was simply "all over the place" in the Buckeyes' win against Indiana, as said by head coach Ryan Day at the end of the game. He put on a tremendous display of effort, athleticism, natural instincts, and high football IQ while collecting 1.5 sacks, 1 pass breakup, and a blocked punt. Ransom is putting together a high-level breakout season and in case he declares at the end of the season, I wouldn't be surprised to see teams invest in him on day 2. He's a versatile chess piece on defense who can impact the game in so many ways, while also potentially playing an important role as a special teamer.
---
Fallers:
Will Levis
Quarterback, Kentucky
While on one side, Will Levis continues to generate 1st round hype in draft circles, on the other, he continues to struggle on the gridiron, both from an efficiency and production standpoint. Even though Levis possesses a strong arm and above-average athleticism, he hasn't been able to produce at all with those tools. Although he gets praised quite a lot for possessing those "high-upside" traits, there are prospects with even better raw tools (Anthony Richardson) and the same inconsistencies that don't get 1/3 of the hype Levis is getting. Despite his well below-average performances, I still expect him to be selected in the 1st round: the team that will make that investment should really have historic confidence in its coaching staff in order to try to turn him around at the next level.
Tanner McKee
Quarterback, Stanford
The Stanford signal-caller is another prospect who gets quite a lot of hype without being productive or efficient on the field. McKee has a below-average supporting cast around him, but at the same time, he has been inconsistent as a passer, especially with his accuracy, decision-making, and efficiency (49.9 QBR on the season). McKee has shown some flashes on tape thanks to a strong arm that allows him to make NFL throws sometimes, but he's also a pocket passer who offers extremely little as a creator out of structure. I personally think that McKee is very similar to former Stanford quarterback Davis Mills, a pocket-passer who has the tools to take on some spot starts in the NFL while mainly being a backup.
Jaquelin Roy
Defensive tackle, LSU
Roy has without a doubt impressive tools that could make him a solid player at the next level. But on a production level, he has been below average in a season in which his draft stock could really have soared. Roy only has 0.5 sacks and 1.5 tackles for loss on the season, while being a bit hit-or-miss as a run defender. With more reps and experience he could take a huge step forward in his development process, but at least for now, his draft stock has remained quiet. He's still a high-upside prospect.