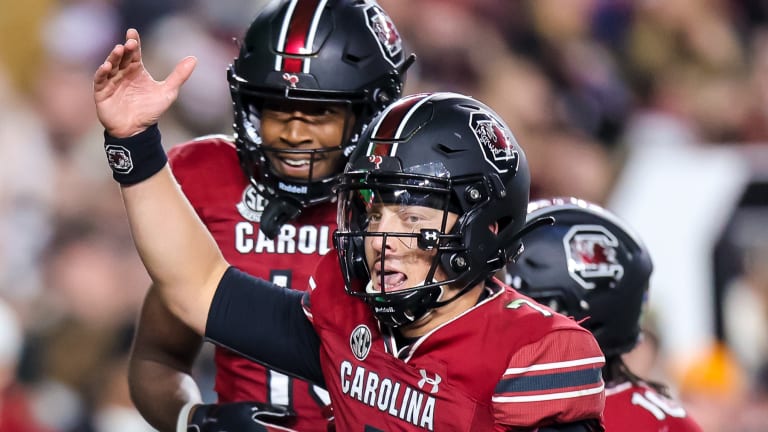 2023 NFL Draft: Week 12 Risers and Fallers
Which prospects are on the rise or took a step back after Week 12 of College Football?
With Week 12 of the 2022 College Football season officially in the books, let's take a look at some 2023 NFL Draft prospects who made big moves this week.
---
Risers:
Spencer Rattler
Quarterback, South Carolina
I've always been a fan of Spencer Rattler's profile, but his first season at South Carolina has been a disappointment from a draft stock perspective, as he hasn't been able to look reliable and productive on a weekly basis. In Saturday's clash against Tennessee though, Rattler seemed to have scratched his ceiling as he delivered a six touchdown in a signature performance that led the Gamecocks to an upset win. The Oklahoma transfer played a perfect game; he was efficient when pushing the ball downfield, he was lethal throwing in rhythm, and flawless from a decision making and ball placement standpoint. 
Rattler has the tools to be an NFL starter but being able to perform at a solid level on a weekly basis would be the key in order to get trusted as a prospect from NFL franchises. If he declares, I still expect him to be a mid-round pick.
Drew Sanders
Linebacker, Arkansas
The Alabama transfer has been one of the best players in collegefFootball this season regardless of position and his draft stock is consistently rising. In Arkansas' upset win against Ole Miss, Sanders collected an interception, but most importantly, he was all over the field making plays all game long. 
Sanders plays with rare effort and athleticism, he's a relentless force, especially in pass rush, who can be a really productive player at the next level. That being said, I think Arkansas is playing him out of position, as he looks better suited to play as an edge rusher instead of interior linebacker. But I believe NFL teams will recognize that rather quickly.
Jase McClellan
Running back, Alabama
On one side, Austin Peay definitely doesn't have the talent to stop Alabama's offense, and on the other, Jase McClellan has been incredibly reliable when given the chance to lead the backfield. He finished the game with 156 rushing yards and 2 touchdowns on 17 carries. At 5'11", 212 pounds, McClellan is a physical ball-carrier able to handle high-volume workloads, but at the same time he possesses well above average breakaway speed that allows him to hit big plays, plus versatility as a pass catcher. In the loaded 2023 running back draft class, McClellan's name will be under-the-radar, but he's a legit NFL talent.
---
Fallers:
Spencer Sanders
Quarterback, Oklahoma State
Sanders was labeled as a potential breakout player coming into 2022. But instead, he's having an up and down season in which he's displayed questionable decision making. Against Oklahoma, Sanders finished with only one touchdown and four interceptions. The veteran signal caller is clearly more of a college quarterback than a pro passer. He might still sneak in a NFL roster, but I expect him to be a backup quarterback who could mainly be utilized on package plays to take advantage of his athleticism.
Cameron Rising
Quarterback, Utah
Cameron Rising was another quarterback who started the season in the right way and then took a little step back. In a pivotal matchup against a ranked Oregon side on Saturday, Rising finished the game with zero touchdowns and three interceptions. He struggled both at throwing in rhythm and hitting receivers downfield. Rising still has some intriguing traits that could lead him to become a reliable backup quarterback at the next level.
Stetson Bennett
Quarterback, Georgia
In this fallers column completely dedicated to quarterbacks, Stetson Bennett is another prospect who started the season as an Heisman candidate, ending up as a big-time underperformer. Bennett will definitely get drafted because of his ability as a game manager and leadership, but he doesn't look like a pro-passer and reminds me of former Notre Dame quarterback Ian Book.