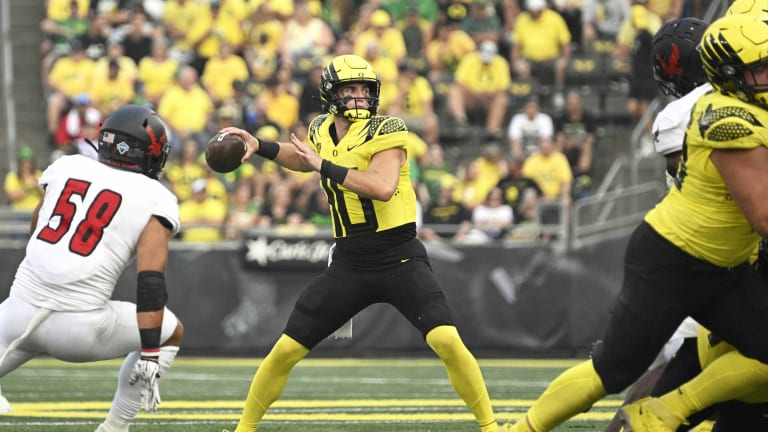 Bo Nix, Eli Ricks among Week 8 NFL Draft Risers and Fallers
Which prospects are on the rise or took a step back after Week 8 of College Football?
With Week 7 of the 2022 College Football season officially in the books, let's take a look at some 2023 NFL Draft prospects. Some talented players were able to finally perform in a big way after facing adverities, while some prospects who started the season with a bang, took a step back.
---
Risers:
Julian Fleming
Wide Receiver, Ohio State
With Marvin Harrison Jr. and Emeka Egbuka balling out week-in and week-out at a high level, Julian Fleming isn't getting much spotlight. But the former number one overall recruit is truly blossoming into a legitimate NFL prospect. 
Fleming has battled through injuries in his first two seasons with the Buckeyes, but now he's fully healthy and performing. Fleming is a technician who mainly operates from the slot, but he also possesses enough athleticism to make plays downfield: the 79 yards touchdown he recently scored against Iowa is a perfect example of that. Fleming has it all to become a third or even secondary wide receiver in the NFL.
Eli Ricks
Cornerback, Alabama
The former LSU star who was considered a surefire first-rounder prior to the season, struggled at gaining consistent play time to begin the season. However, against Mississippi State this weekend, he took advantage of the chance he was given by putting together a special performance. Ricks was targeted 10 times and he only allowed one catch while forcing 5 incompletions. Ricks is a well-refined cornerback with solid athleticism. The hype around Ricks has drastically subsided since the beginning of the season, but he's now on the rebound and if he continues this level of play, he's going to find himself up near the top of CB draft boards.
Bo Nix
Quarterback, Oregon
While he still shouldn't be considered anything more than a solid quarterback prospect, Nix has finally been able to put all of his tools together and perform more consistently. Of all the talented yet raw and inconsistent quarterbacks of the 2023 draft class, Bo Nix is the one who gets the least attention. Nix has always had impressive tools and this could help him become a backup level signal-caller in the NFL, with enough talent to take on some spot starts if needed.
---
Fallers:
D.J. Uiagalelei
Quarterback, Clemson
After a big-time start of the season that helped him get back on to draft radars, Uiagalelei took a big step back in the game against Syracuse. His ineffectiveness led to him getting benched in favor of über-talented true freshman Cade Klubnik.
Uiagalelei's performance really looked like a version of what he displayed in 2021 where he was off from a mechanics, footwork and consistency standpoint. The reality is that Clemson's passing offense doesn't particularly fit Uiagalelei's style, but I still think that under a proper quarterback developer he can turn into a solid signal-caller.
Jahleel Billingsley
Tight End, Texas
Since his tenure in Tuscaloosa, Billingsley has always displayed great flashes that were enough to make him a potentially productive NFL receiving tight end. On Saturday he made his debut for the Longhorns in which he collected 33 yards against Oklahoma State.
Despite that, the general feel is that he has submarined his draft stock by making questionable decisions off the field that also led to a 6 game suspension to start the season. Billingsley is talented enough to be a NFL player but he'll now need to prove that he can compete and produce on a weekly basis.
Rashee Rice
Wide Receiver, SMU
Rice has returned to earth in the last couple of weeks after a sensational start of the season and in general I think that the late 1st round, early 2nd round hype he was getting was a little out of hand. Rice is a solid pass catcher who can contribute to a NFL offense, but I still don't see the tools of a player with the potential to be a primary receiver in the NFL. I think a mid day 2 pick would be much more appropriate.