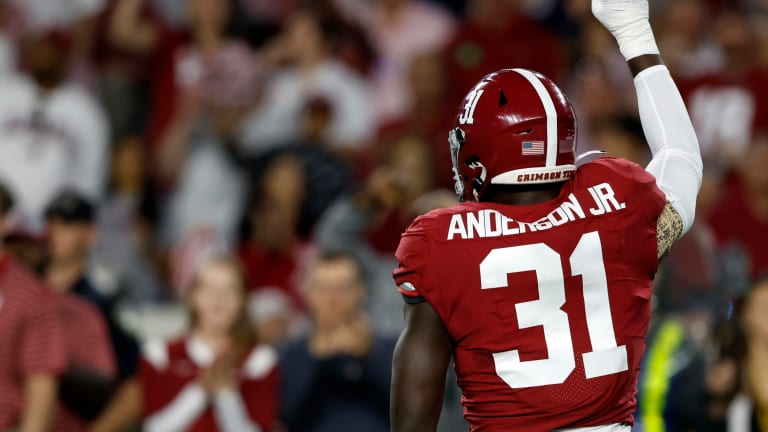 Sartirana's 2023 NFL Mock Draft 1.0
Mock Draft season is now officially underway
With the regular season being officially over and the order among non-playoff teams now set, let's take a look at a full first-round Mock Draft. In order to put it together, I utilized Mock Draft Database Simulator and I haven't included trades.
---
1. Chicago Bears
Will Anderson Jr.
Edge rusher, Alabama
This could very well end up being a sweet spot for quarterback-needy teams in the top 10 trying to secure their target. The Bears desperately need blue-chip talents on their roster and Will Anderson Jr. is the best overall player in the 2023 draft class. The dominant pass rusher would be an immediate boost to a well-below-average Bears defensive line.
2. Houston Texans
Bryce Young
Quarterback, Alabama
The Texans are looking for a new head coach and franchise quarterback. The new regime will not lose the opportunity of putting their hands on a signal-caller with Bryce Young, C.J. Stroud, and Will Levis available. Despite being a historic outlier based on his frame, Young has displayed over and over again that he can carry an offense without having major limitations in his profile.
3. Arizona Cardinals
Jalen Carter
Defensive Tackle, Georgia
The Cardinals are going through a major rebuild as they are looking for a new head coach and general manager while Kyler Murray is recovering from a torn ACL and DeAndre Hopkins will most likely be traded soon. Carter is a blue-chip talent who could be an impact player right away in the NFL in order to bolster Arizona's defensive line. The upside he brings to the table both as a pass rusher and run defender is immense.
4. Indianapolis Colts
C.J. Stroud
Quarterback, Ohio State
After signing and trading for multiple veteran signal-callers while putting together disappointing seasons, it's time for the Colts to make an investment in the position through the draft. C.J. Stroud improved his stock in a major way against Georgia by displaying that he can make things happen out of structure. The Ohio State product has the tools to become a well-above-average NFL quarterback and that would be pure gold for the Colts.
5. Seattle Seahawks
Myles Murphy
Edge, Clemson
Seattle clearly needs to add an edge rusher with top-tier upside and Myles Murphy is exactly that. I don't think Murphy gets the recognition he deserves as a prospect: he's an uber-athletic and disruptive pass rusher who's also extremely refined as a run defender. He could emerge as a franchise cornerstone pretty early for the Seahawks.
6. Detroit Lions
Bryan Bresee
Defensive Tackle, Clemson
Detroit's current regime has always valued the trenches a great deal and has invested a lot of draft capital on both sides of the ball on the interior. So although they have more pressing needs, passing on a talent like Bryan Bresse is tough. The former five-star prospect would be the cherry on top of an already solid defensive line. Bresee has dealt with a few injuries in college but has tremendous upside. Hard to find a player of his size (6-5, 300 lbs.) with his level of explosiveness. His upside as a prospect is through the roof.
7. Las Vegas Raiders
Paris Johnson Jr.
Offensive Tackle, Ohio State
Considering how the Raiders' roster is built, I expect them to go after a quarterback via trade rather than seeking one in the draft. Instead, they could use some help along the offensive line in order to protect their future signal-caller. Paris Johnson Jr. is a physically imposing player with a refined game in both phases and great athleticism. He has it all in order to become a franchise tackle.
8. Atlanta Falcons
Tyree Wilson
Edge, Texas Tech
With this pick, the Falcons could look for some help both along the defensive line or in the secondary. Tyree Wilson, despite being relatively raw technically as a pass rusher possesses a truly rare combination of explosiveness, motor, and power. Although he'll need some refinement, he's one of the prospects with the highest ceilings in the whole draft class. His versatility and ability to make an impact aligned on the inside is also valuable.
9. Carolina Panthers
Will Levis
Quarterback, Kentucky
The Panthers brought in Sam Darnold and Baker Mayfield without getting away with a long-term solution at the position. With a new regime set to come in as the Panthers are looking for a new head coach, a move for a quarterback is likely. Levis, despite being an older prospect, is a project with solid tools but major flaws as a passer. Carolina in this case will bet on its ability to maximize his skillset and make him a franchise quarterback.
10. Philadelphia Eagles
Brian Branch
Safety, Alabama
Philadelphia has a rock-solid roster with very few needs. Despite the safety position not being one of the most valuable overall, Brian Branch is still a talent worthy of this pick. Labeling Branch as safety doesn't even give you the full picture, he's a mature, refined, naturally talented, and athletic do-it-all defensive back able to make an impact in every phase of the game.
---
11. Tennessee Titans
Quentin Johnston
Wide Receiver, TCU
Treylon Burks was a first-round pick for the Titans just a year ago, but the Titans are still in need of playmakers with Robert Woods set to leave. Adding the TCU standout Quentin Johnston to the mix makes sense. The staff clearly still believes that Ryan Tannehill can make a few more playoff trips. Putting together Burks and Johnston would quickly give them one of the most athletic, explosive, and physically imposing duos in the NFL at the position.
12. Houston Texans
Jaxon Smith-Njigba
Wide Receiver, Ohio State
With a franchise quarterback now secured, the Texans will need to help him by adding a go-to receiver. As Brandin Cooks is also set to leave, Ohio State product Jaxon Smith-Njigba would quickly become Young's most trusted target given his reliability in the short and intermediate areas of the field. Smith-Njigba with his technical refinement and top-tier hands has the traits to become a highly-productive NFL pass catcher.
13. New York Jets
Peter Skoronski
Offensive Tackle, Northwestern
With even an average quarterback, the Jets could have made a serious playoff push in 2022. Considering how well-built the Jets roster is, I would expect them to go after a quarterback via trade rather than drafting one. Adding a rock-solid offensive tackle prospect like Peter Skoronski is a massive need for New York and his impact would boost even more the offense. Skoronski displays pristine technical refinement.
14. New England Patriots
Jordan Addison
Wide Receiver, USC
In today's NFL, there isn't a better way for helping a quarterback than giving him a solid target to throw to. Jordan Addison brings to the table a skillset extremely similar to Devonta Smith's, who won the Heisman Trophy with Mac Jones throwing him the ball. The Patriots have a solid defense, but they desperately need to add playmakers on offense, and Addison sure is one of them.
15. Green Bay Packers
Broderick Jones
Offensive Tackle, Georgia
The situation at the quarterback position is still uncertain for the Packers, as we still don't know who will be under center next year between Aaron Rodgers and Jordan Love. Anyway, adding a potential franchise offensive tackle is a priority going into the offseason and Broderick Jones clearly has the tools to become one. Although he needs some technical refinement, his athleticism and power are impressive.