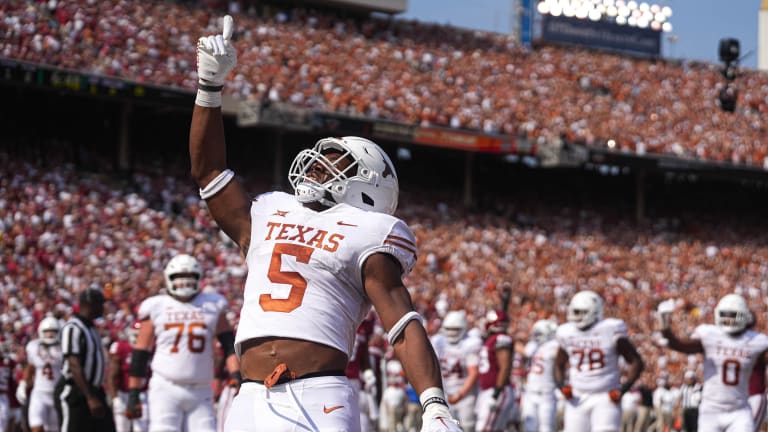 Top 10 RB for the 2023 Draft: Bijan Robinson, Jahmyr Gibbs, Blake Corum & More
Halfway through 2022 College Football season, top talent is emerging at RB
The next running back draft class has the potential to be the best in recent memory. Even better than the 2017 draft class, when Christian McCaffrey, Dalvin Cook, Leonard Fournette, Alvin Kamara and Aaron Jones, among others, all entered the league at the same time. The class is historically deep and extremely talented at the top: teams that are in need of new ball-carriers could even double dip in this group. Let's then take an in-depth look at the top 10 players of this upcoming class. The running backs are ranked based on in which order I think they will be picked, but it will be highlighted what are my evaluations.
---
1. Bijan Robinson, Texas
6'0", 221 lbs., Junior
Bijan Robinson is the undisputed headliner of the 2023 running back draft class: he's a total playmaker who should be considered in the same tier of Saquon Barkley and Jonathan Taylor as a prospect. The former 5-star recruit doesn't have any true holes in his game. If you feel the need to find something, it would be his well above-average, but not elite, long speed. 
Robinson is a creative runner who's almost impossible to stop at first contact: he can dodge defenders and make them miss tackle with his elusiveness, elite footwork, flexibility and power. He's an extremely powerful ball-carrier who can tear defenses apart both with physicality and finesse. He's efficient when asked to improvise, can hit big-runs, he's a very good athlete and he's a phenomenal receiver. 
He can be flexed on the outside or in the slot and make catches downfield while displaying elite hands. Robinson is the total package and I fully expect him to be selected in the first round. He will be a workhorse in the NFL.
Personal ranking: #1
2. Jahmyr Gibbs, Alabama
5'11", 200 lbs., Junior
The former Georgia Tech weapon has been dominant since a couple of years, but he's getting the attention he deserved only know after transferring to Alabama. Despite not possessing the profile of a workhorse at the NFL level, the commissioner will call his name late in the first round or early in the second round because of his versatility and how lethal he is as a pass catcher. 
Gibbs' style is incredibly similar to Alvin Kamara's: he's an efficient runner who should comfortably handle 12/15 carries per game while being involved in every possible way as a receiver. Gibbs is a Swiss army knife who can play in the slot or out wide and play like a proper receiver while doing so. He could be a walking mismatch at the next level able to put defenses on their knees with his playmaking ability, speed, creativity and elite contact balance. 
Watching him with the ball in his hands, he's almost elegant: no wasted steps, very fluid running style, top-tier footwork and jaw-dropping stop and go ability. While he'll be probably paired with a more physical running back, he could be a game-changer in the NFL.
Personal ranking: #3 
3. Zach Evans, Ole Miss
6'0", 215 lbs., Junior
Because he shares the backfield with talented true freshman Quinshon Judkins, Zach Evans usually doesn't get the attention he deserves as a draft prospect. But he has everything to become a top-tier NFL running back, in the Todd Gurley mold.
Evans is an exceptional and explosive athlete who's perennially a touch away from putting together a big-play. The TCU transfer is a very efficient runner with great vision and change of direction ability; he glides past defenders displaying great contact balance and he's extremely hard to stop in the open field. He's also an underrated pass catcher who can contribute to an NFL passing game in a significant way. A true playmaker who will be a very productive player at the next level, Evans is able to handle heavy workloads. I expect him to be selected early in the second round.
Personal ranking: #2
---
4. Sean Tucker, Syracuse
5'10", 209 lbs., Junior
Syracuse superstar Sean Tucker is another running back prospect who gets overlooked quite a lot and gets little to no hype. He's a magnificent ball-carrier with a perfect running technique: his track and field background is on full display on the gridiron, he runs with no wasted steps and he's able to reach his full speed incredibly quickly. Despite his size could make you think he's a bowling-ball style runner, Tucker is actually a speedy game-breaker who's gone as soon as he's in the open field. 
He possesses good physicality, vision and change of direction ability as he can quickly jump on the outside when things don't go well and still make something happen. Tucker would mainly be an early down back at the next level who's still able to produce as a receiver on screens given his burst, speed and contact balance. I expect him to be selected in the second round as a weapon able to manage heavy workloads and impact the game with his athleticism.
Personal ranking: #4
5. Blake Corum, Michigan
5'8", 200 lbs., Junior
Despite not having the skillset of a workhorse or even an early down back at the next level, I'm still expecting the NFL to be quite high on him. Corum is a leader in the locker room with excellent work ethic and he mainly projects as a change of pace back with game-breaking ability. He's a rather patient runner who has top-tier burst and explosiveness, which allows him to score big runs often. He has low center of gravity and extremely strong legs.
The Wolverines have not utilized his abilities in the passing game - mostly due to the presence of Donovan Edwards - but Corum could be a weapon on screen passes thanks to his lethal burst and long speed. He could be a reliable contributor at the next level, even though I think he will be over-drafted. The lack of versatility in his skillset knocks him down for me. He will probably hear his name called late in the second or early in the third round.
Personal ranking: #9
---
6. Tank Bigsby, Auburn
6'0", 213 lbs., Junior
Bigsby is a more traditional early down back who wins with his physicality, power, speed and contact balance. When running the rock, Bigsby reminds me of Cowboys veteran Ezekiel Elliott when he was coming out of Ohio State: despite mainly being a physical runner able to manage big-time workloads, he still had the burst and long speed to hit big plays.
The former 4-star recruit is hard to bring down and displays a solid combination of vision and footwork. His lack of top-tier athleticism, speed and versatility as a pass catcher put him in a tier below the first crop of running back prospects, but he's still a very solid prospect who will be a big contributor in the NFL. I expect him to be selected late in the second or early in the third round.
Personal ranking: #5
---
7. Zach Charbonnet, UCLA
6'1", 220 lbs, senior
Even though he's not particularly versatile as an offensive weapon, Charbonnet is a traditional early down back able to manage significant workloads while remaining efficient. Charbonnet is a tall, strong runner who's physicality could create issues to opposing defenses.
He effortlessly runs himself through defenses by taking advantage of his combination of power and strength, but he's also an underrated athlete who can put together big runs. He's also reliable near the goal line where he can take advantage of his physical profile. Charbonnet isn't much of a threat as a receiver, but at the next level he will mainly be an early-down back asked to tire defenses out with his vintage style of play. I expect him to be selected somewhere in the third round.
Personal ranking: #7
8. Devon Achane, Texas A&M
5'9", 185 lbs., Junior
I'm comfortably labeling Devon Achane as a "unicorn" given his rare skillset. It's pretty rare to find an offensive weapon with Olympic-caliber speed. Achane's personal record in the 100m would've been enough to make him qualify for the 100m final at 2020 games in Tokyo.
Achane is a true game-breaker who just needs a touch to score a big-play, he has a rare combination of speed, burst and explosiveness that makes him literally unstoppable once he hits the right running lane. He projects as a change of pace back who should also be utilized way more and in more creative ways as a pass catcher. Finding a match with an offensive coordinator who can routinely get him mismatches against linebackers could be devastating. If utilized correctly, Achane has the potential to become of the NFL's most lethal offensive chess pieces. I expect him to be selected in the third round: he would a dream for a creative play-caller.
Personal ranking: #6
9. Deuce Vaughn, Kansas State
5'6", 176 lbs., Junior
Vaughn looks like an updated version of Darren Sproles, a do-it-all offensive weapon able to make an impact as a runner, pass catcher and returner who just happens to play for the same program. He's a small runner with great vision, creativity and agility, with enough long speed and explosiveness to score big runs: at the same time he could be aligned as a receiver while also taking advantage of his small size and speed to return kicks. 
While he might not handle high-volume workloads in the NFL, Vaughn could still be a very valuable offensive asset able to impact the game with his speed and versatility. I expect him to be selected in the fourth round.
Personal ranking: #8
---
10. Chase Brown, Illinois
5'11", 205 lbs,. Redshirt Senior
I fully ride the wave of believing that the NFL will invest on an older prospect coming off a career year, that's why I think Chase Brown will get selected in the fourth round, despite not being a top-10 prospect at the position for me. Brown is enjoying a really productive season as Illinois is basically relying on him to carry the whole offense (192 carries through 7 games, which equals to 27 runs per game). 
The former three-star prospect is a tough and physical runner who has some good speed and explosiveness in his game, which make him a threat to score big runs. He's showing that he can handle big workloads, despite not being a versatile pass catcher, he could help on screen passes, even though he'll probably be limited to some early down work in the NFL, mainly because of his lack of athleticism and fluidity. 
Personal ranking: #15