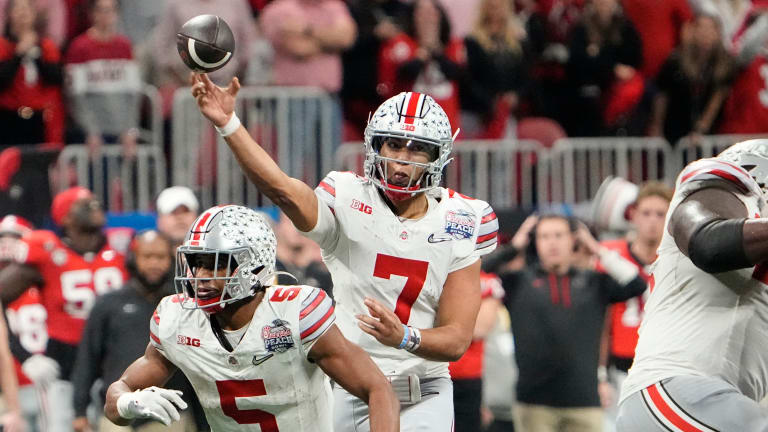 Top Draft Eligible Performers from the Latest Round of Bowl Games
A look at the prospects who performed at a high level from the latest round of games
The 2022 College Football season is almost over, with the National Championship Game between TCU and Georgia being the last game standing prior to diving into the offseason. The latest round of Bowl Games though, saw a handful of 2023 Draft prospects stand out and perform at an impressive level. Let's give a look at their performances and what those games mean for their draft profiles.
---
C.J. Stroud
Quarterback, Ohio State
C.J. Stroud was by far the biggest "revelation" of this past weekend. In a tough point for point game against Georgia, C.J. Stroud brought to the table a couple of factors that many scouts and analysts has been eager to see for the last couple of years: making things happen out of structure with consistency and carrying the team on his back when needed to keep them in the game
Stroud was majestic against the Bulldogs, finishing the game with four touchdowns and zero turnovers while displaying mobility and creativity out of structure. The future first-rounder was also able to gain a couple of vital first-downs with his legs and put together a couple of sensational off platforms throws.
Stroud has looked like Jared Goff from a style perspective throughout his college career, but against Georgia he looked way more like Dak Prescott rather than Goff. Seeing him unlock that part of the game will be important for his final evaluation, meaning that what looked like a player with a rather capped ceiling, now has a little more room above his head.
Bryce Young
Quarterback, Alabama
In his last college game against Kansas State, Bryce Young was surgical. He collected five touchdowns and zero interceptions while leading Alabama to the Sugar Bowl title.
Young didn't "unlock" any new part of his game like Stroud did, but he was still able to put together one of his most polished performances thus far. The redshirt sophomore was phenomenal throwing in rhythm and killing the opposing defense by taking what they give him and he also added to the mix a couple of jaw-dropping downfield shots.
Young should be the favorite to be selected first overall next April and while the main limitations come from his frame, what he has displayed on the gridiron in the last couple of years is more than enough to justify that type of pick. While not having elite upside, he still has everything needed to become a well above average quarterback at the next level.
Brian Branch
Safety, Alabama
The future first-rounder was an absolute demon in Alabama's win. He was all over the field making plays as he finished his performance with 12 tackles, a sack, four tackles for loss and an interception. 
Branch is a versatile defensive back who can help a NFL secondary in many ways. But what truly stands out is how easy and natural he makes it look. He's a natural talent with tremendous instincts who is always around the ball. There truly are few weaknesses in his game as he brings to the table versatility, athleticism and consistency. He's a first-round talent and he proved it once again with a signature performance on a big stage.
---
Quentin Johnston
Wide Receiver, TCU
Johnston is another future first-rounder who was able to perform at an impressive level on the biggest stage he's played in thus far. The 6'4 Johnston went through an interesting and tough battle with Michigan's corner DJ Turner all game long, but was still able to finish his game with 163 receiving yards and a score. 76 of those 163 yards came on a single play, in which Johnston was able to get the ball on a quick crosser and turn on the jets to keep the whole defense behind his back. He should be the sure-fire best wide receiver prospect in the draft as the combination of athleticism, twitchiness and speed he brings to the table at his size is pretty rare.
Kenny McIntosh
Running back, Georgia
A probable day 2 pick, McIntosh's impact was vital for Georgia in their last second win against Ohio State. McIntosh went on to score a receiving touchdown while displaying his explosiveness and put together some crucial plays on the ground. 
As said multiple times, the upcoming running back draft class is extremely loaded but McIntosh is most definitely a valuable talent able to impact a NFL offense both as a runner and pass catcher. The senior back has been pretty consistent throughout the season while being the lead back in a committee backfield, showing that he's legitimately NFL material.