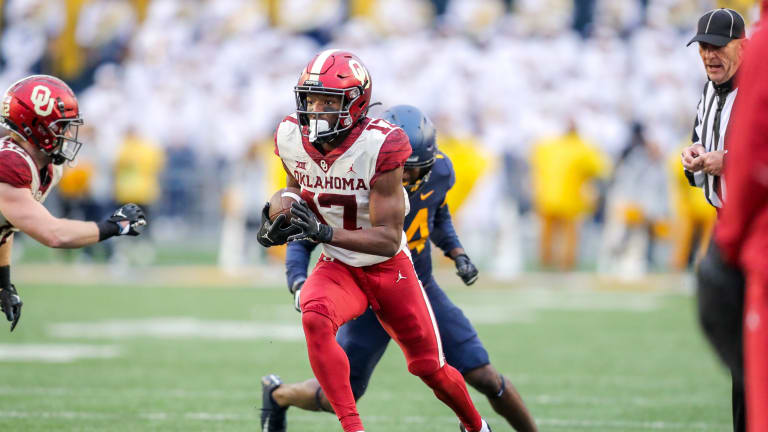 The Most Underrated 2023 Draft Prospect at Every Offensive Position
A closer look at the offensive prospects who need more love
While the NFL is approaching the Divisional Round of the playoffs, NFL Draft season is already in full effect. As we now have a full picture of the players who declared, as the deadline was this past Monday, it's time to take a look at some of the offensive prospects who don't get the attention they deserve.
---
Clayton Tune
Quarterback, Houston
With all the hype and talk around the top of the quarterback class, where Bryce Young, C.J. Stroud, and Will Levis will fight for the first overall pick spot while Anthony Richardson will probably hear his name called on day one too, there's little to zero attention on the rest of the class. Houston product Clayton Tune, who will also soon make an appearance at the Senior Bowl, is an intriguing prospect who possesses the tools to potentially become a starter at the next level. 
Tune has adequate mobility that allows him to make plays out of structure, and, despite not having a top-tier arm, he can count on solid arm strength and ball placement. When needed, he has displayed the ability to put together game-changing downfield throws, which is an important asset in order to give the offense more options. Tune possesses a solid profile: he has everything needed in order to become an elite backup, but at the same time he offers the tools to potentially push for a starting spot.
Isreal Abanikanda
Running back, Pittsburgh
The running back class is undoubtedly loaded and the direct consequence is that some solid running back prospects will be left behind while slipping down draft boards. One name that shouldn't be overlooked is Pitt's product Israel Abanikanda, who, after a decent sophomore season, burst onto the scene in a big way with 1,431 rushing yards and 20 touchdowns in his 2022 campaign. 
Abanikanda mainly projects as an early down back at the next level, where he could easily end up being a starting and solid option. At 5'11", 215 pounds, the Brooklyn native has the physical tools to handle large workloads and the combination of explosiveness and speed to create big plays. In case he slips down on Draft Day, Abanikanda possesses everything to become a solid steal as a player able to give an immediate impact as a rookie.
Marvin Mims Jr.
Wide receiver, Oklahoma
The lack of attention that Marvin Mims Jr. manages to have is still surprising to me. Mims Jr. is one of the best wide receivers in the second tier of 2023 prospects at the position (behind Quentin Johnston, Jaxon Smith-Njigba, Kayshon Boutte, and Jordan Addison group) and has displayed throughout every single season at Oklahoma why he could be a big-time weapon in the NFL. 
Mims is a speedy receiver who's a threat to take the top off the defense on every deep throw, he's got tremendous ball skills and the ability to produce with the ball in his hands. He could end up being a very solid secondary receiver at the next level and deserves way more love as a prospect.
---
Jahleel Billingsley
Tight End, Texas
Billingsley's college career hasn't been easy as he transferred from Alabama after being criticized by Nick Saban because of his demeanor and approach and failed to have an impact at Texas under Steve Sarkisian. The 6'4", 220 lb. Billingsley is built like a big-bodied wide receiver and has the speed and athleticism to become a difference-maker at his position in the NFL. It will be curious to see what the NFL thinks of his past from a behavior standpoint, but if he manages to stay focused and stay away from that, I think he possesses all the necessary tools in order to become a solid receiving option at the next level.
Carter Warren
Offensive Tackle, Pittsburgh
Warren's talent is clear, but somehow he doesn't receive the praise he deserves. He's an experienced tackle who possesses both the physical and technical attributes in order to become a solid starter in the NFL. 
Warren's technique in pass protection is pristine: the coordination between his upper and lower half is fantastic and despite not being the most explosive athlete he makes up for it with his impressive football IQ. Warren can definitely be a difference maker as an aggressive tackle able to bully opposing pass rushers by both imposing himself with his functional strength and big-time technique.
Ricky Stromberg
Center, Arkansas
In a pretty thin IOL class, former Arkansas center Ricky Stromberg stands out for his technique and ability to move defenders in the run game. Stromberg is a full force in that phase of the game as he displays an extremely strong base but at the same time light feet. His hand usage is above average as he's able to land his hand first quite often and set the tone, while also displaying a solid anchor. With plus technique and solid athleticism, Stromberg could be an impact player quite early in the NFL, especially in the run game.