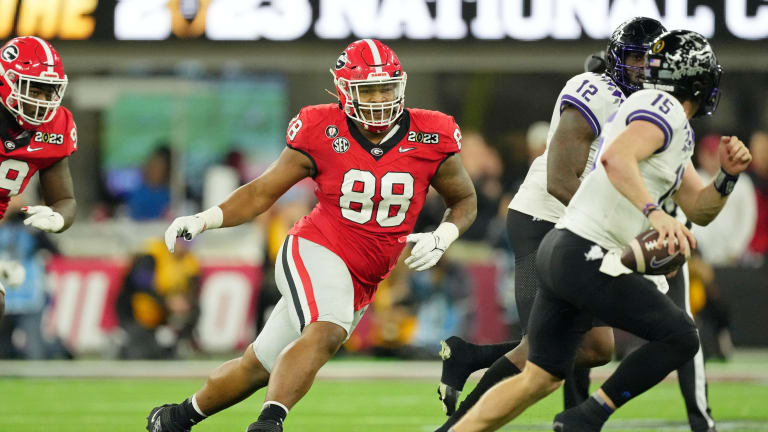 What the National Championship Game Told Us About Draft Eligible Prospects
Georgia's prospects shined once again on the biggest stage
In a 2022 National Championship Game that saw the Georgia Bulldogs completely annihilate TCU, multiple 2023 NFL Draft prospects were involved. Let's take a look at some of them while highlighting my thoughts on their profiles.
---
Stetson Bennett
The 25 year old quarterback is now set to enter the NFL Draft after putting together a legendary college career. Once again, Bennett displayed immense football IQ, decision making and vision, something that overall you would expect to see from a player of his age. 
Bennett definitely has the tools to carve out a role in the NFL. If Ian Book, a quarterback with similar traits but a lesser college resume got selected in the fourth round, I expect Bennett to end up a late Day 2 or early Day 3 selection. The veteran signal caller still doesn't possess elite upside and I mainly see him as career backup able to take on potential spot starts. NFL teams look eager to have a player with his leadership and presence in the locker room.
Jalen Carter
The defensive tackle didn't make his presence felt in the stat sheet, but on tape, he flashes and displays a unique ability to disrupt from the interior. After a becoming back-to-back National Champion, Carter quickly entered the 2023 NFL Draft, in which he'll likely be a top-4 pick. 
Carter has the tools to become a star defensive tackle at the next level given his explosiveness, technical refinement and big-time impact both as a pass rusher and run defender. The former top-50 recruit is a sure-fire blue-chip prospect and he has displayed it consistently throughout the season.
Quentin Johnston
The TCU standout pass catcher finished the game with a single catch for three yards. The Bulldogs basically game planned the whole game against him and that was evident from the first snap. Johnston got doubled quite often, with Duggan having to look elsewhere in order to get things going. 
Overall this game doesn't affect Johnston's draft stock at all: he's a solid prospect who has everything needed in order to become a true primary receiver at the next level.
---
Broderick Jones
Jones has been lights out this season and he was impressive once again on the biggest stage of them all. The 6'4", 310 lb. offensive lineman brings to the table a stellar combination of power and explosiveness, he's quick on his feet and he's a people mover in the run game. He looks like a rock-solid first-round caliber prospect who can easily become a franchise tackle. Jones has been one of Georgia's brightest stars displaying a massive step forward in his development process.
Tykee Smith
The veteran safety had to battle through some injuries in the last couple of seasons which brought him to become a rotational player. Against TCU, he flashed why he's NFL material by looking solid in coverage and also collecting a sack. Smith could turn out to be an underrated prospect and a potential steal for whoever drafts him. He's got the necessary traits to carve out a significant role at the next level.