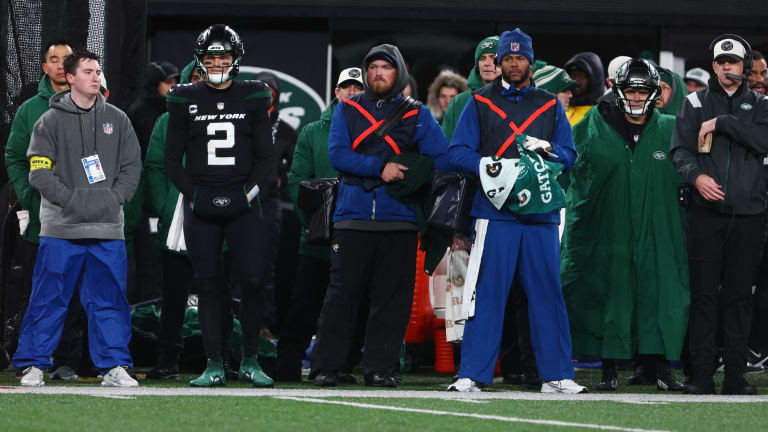 What Zach Wilson's Case Could Tell Us About Future Evaluations
A dive into the evaluation of toolsy yet raw quarterback prospects
The 2017 NFL Draft changed everything about the evaluation of the quarterback position. The immediate impact of Deshaun Watson in Houston and the MVP campaign of Patrick Mahomes just a season after led teams to try to replicate that by investing earlier and earlier in the draft on signal-callers with top-tier raw tools such as arm talent and athleticism. But not every raw prospect develops as quickly or to such a high level as these two.
---
Evaluating the quarterback position is incredibly hard because there are quite a lot of factors that need to work together in order to help the prospect to potentially reach his ceiling: coaching staff, scheme, weapons at their disposal, level of competition faced in college and the ability to develop as processors, and much, much more. It's nearly impossible to build a general blueprint about quarterback evaluations that works: college quarterbacks play against different level of competition, with different level of weapons at their disposal and in different schemes that may or may not help their transition into the NFL.
Ohio State is an example that I bring out a lot. It's easy to find around the narrative of avoiding drafting Ohio State quarterbacks because none of them has been successful in the NFL. Helmet scouting is one of the worst things you can do when evaluating prospects of whichever position. 
C.J. Stroud, projected to go high in the first-round next April, isn't particularly mobile and doesn't have an elite caliber arm: transitioning from the Buckeyes where he throws the ball to three future first-round receivers every season while playing behind a top offensive line, for sure will give him some troubles when transitioning to a bottom-5 NFL team in which he'll have far worst caliber material than what he had in Columbus. There aren't many teams able to go toe-to-toe with the talent Ohio State has on offense and being used to that type of dominance, could definitely lead to take a step back when first entering the league. Simply because you'll go through that situation for the first time.
The quarterback position is also the most mental one on the whole game, for a variety of reasons. It's hard for a quarterback who ends up in the wrong environment to start off his NFL career and struggles, to quickly change scenario and start producing. The landing spot for a quarterback it's vital when entering the league and could really make or break a player both on field and mentally.
---
After deep diving into some factors that I believe were right to highlight on my personal quarterback evaluation process, it's time to focus on Zach Wilson's case and what his case could suggest us for future evaluations at the position. Yesterday, in a Thursday Night clash against the Jaguars, Jets' second year quarterback Zach Wilson touched the bottom of the barrel of his experience with the Jets, who I'm pretty sure will be looking for a replacement during the offseason.
Zach Wilson entered the 2021 draft after a big-time season at BYU that led many NFL teams to have him as their top ranked quarterback prospect. All of this in a class that also had Trevor Lawrence, Justin Fields, Trey Lance and Mac Jones. Wilson was even getting drawing comparisons to Aaron Rodgers and Patrick Mahomes. 
The first thing that popped off the screen when watching Wilson's tape was his arm talent: he was able to drop dimes all over the field, on the opposite hash and while fitting fastballs into tight windows, things that immediately lead you to thing about some of the best NFL arms. At the same time though, it was clear that Wilson had little to no pocket presence, as he used to consistently improvise with his footwork while also being reluctant to accept what the defenses gave him, forcing too many throws. Those things are obviously fixable, but at the same time they aren't particularly easy to adjust: you have work hard to change that tendency, while being rightly supported by the coaching staff.
It was — and remains — senseless to me that NFL teams in general, and in particular the Jets who picked him second, took him over Fields and Lance. They clearly fell in love with how versatile and talented his arm was, but even though it's an important trait for a quarterback to have, it's far from being the only thing required to have success. 
Betting on a quarterback simply because of his arm talent or athleticism it's a massive risk. Sometimes it can go well and lead you to have an absolute game-changer (Josh Allen), or could lead to crush your offense (2022 New York Jets with Zach Wilson). NFL teams will continue to fall in this trap because betting blindly on a raw quarterback like that, also means that there's complete confidence by the coaching staff, mixed with a little bit of arrogance, that they will be able to turn him around and make him go through a Josh Allen type of development. Something that should be considered an historic outlier rather a blueprint to try follow each season. Coaching staffs will continue to believe in that (rightfully from their perspective) and they'll continue to get burned by that.
Since landing in East Rutherford, Wilson hasn't been able to display even one bit of what he put together in his last season with the Cougars, where he faced low caliber competition and was protected behind a great offensive line. This doesn't mean that if a prospect doesn't face high caliber competition or has solid weapons around him he should be let aside, but simply that in some cases, if you factor all those things together, the picture becomes clearer about a prospect. 
This season, Mike White and Joe Flacco have been able to make rookie star Garrett Wilson, solid veteran Corey Davis and promising second-year receiver Elijah Moore all relevant and a rock-solid group, while Wilson hasn't been able to even make one of them relevant, while making them look all like normal receivers.
---
Another example of that, at least from my point of view, is future first-rounder Will Levis as it looks like many teams have him as their top ranked quarterback prospect ahead of Bryce Young and C.J. Stroud. Even though Young and Stroud aren't Lawrence and Fields, Levis is a quarterback that shares some traits with Wilson. Levis has operated under two former NFL offensive coordinator at Kentucky: in 2021 he was more productive, while this season he looked like a 3rd round quarterback.
Levis' arm talent jumps off the screen just like for Wilson, but Levis at the same time has poor pocket presence, questionable decision making and doesn't accept what defenses give him while forcing throws. At the same time though he gets praised for an old video in which he throws the ball around looking like Randy Johnson while generating impressive speed on it in training, against no defenders, just like everyone fell in love with Wilson's 2021 Pro Day throws against no defenders.
---
Having arm talent it's important in today's NFL because it gives to the offense so many more options, while basically putting no ceiling to the whole group, it's also important though to don't get flashed by it and also focus on what makes a NFL quarterback successful. Wilson for example wasn't even a real dual-threat, something that for example Florida quarterback Anthony Richardson is, and at a high level. Being a true athlete able to dominate on the ground it's vital in today's NFL because it gives you one more weapon at your disposal to get things going on offense.
Evaluating the quarterback position it's incredibly hard, and even though things will probably don't change from a NFL perspective, Zach Wilson's case could easily end up opening more eyes around the league about the evaluation of the position.