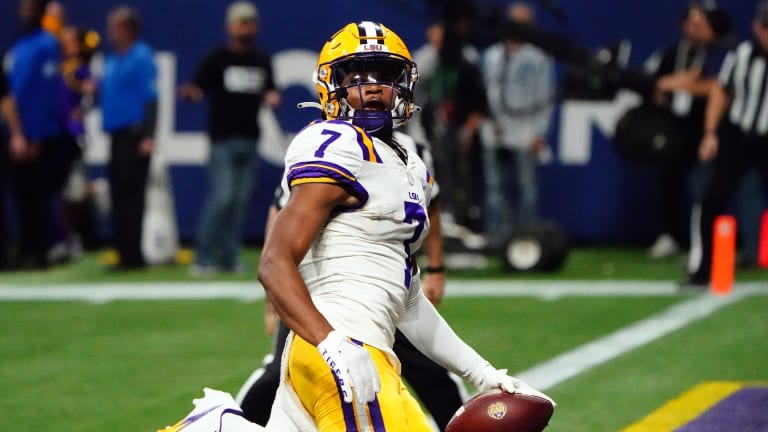 Why Kayshon Boutte Could Turn Out to be a Massive Steal
From probable top-10 pick to underrated
LSU wide receiver Kayshon Boutte is one the prospects who saw his draft stock dip the most throughout the 2022 College Football season. After his first two seasons in Baton Rouge, the expectation for him was to be a probable top-15 pick this coming April. However, the 2022 season changed a lot of narratives, and now, barring an unexpected rise, Boutte will probably be a Day 2 selection.
A slow return to form after an ankle injury that led him to end the 2021 season early and kept him out until the beginning of this past season, alongside recent allegations (not being discussed here due to lack of information), have submarined his stock. But I want to take a look at him from an on-field standpoint here today.
---
When evaluating Kayshon Boutte's profile, the only factor that led me to be lower on him compared to his pre-season evaluation (in which he ended up being my top ranked wide receiver) is the clear lack of explosiveness and long speed shown after the injury, a combination of factors that were exactly what allowed him to be much better than the others receivers in the class. Even without having access to his medicals, it's clear that the ankle injury he suffered last season was bothering him for a large portion of this season too. Boutte burst onto the scene because of his elite playmaking and the ability to turn into a game-changing play every pass directed towards him.
During a large portion of the season, Boutte looked much less fluid and explosive, and struggled to put together his signature 20+ yards explosive plays that made him look like a borderline blue-chip prospect. Playing with an extremely streaky and inconsistent quarterback like Jayden Daniels for sure didn't help his overall production, but this time, the focus and worries were about Boutte's himself, as we literally didn't know if the pre-injury Boutte was now long gone alongside his explosiveness or if he just needed time to go back to his old form after an invasive injury.
---
Boutte showed flashes hope towards the end of the season, where he started break tackles at a similar rate as he used to do pre-injury and most importantly was able to put together an explosive long play against Georgia in the SEC Championship Game.
Boutte's 2020, 2021 and 2022 tape are literally day and night. While the performances from his first two seasons gave me strong Antonio Brown vibes as a player who was a threat to score anytime he touched the ball while possessing a rather complete profile, the 2022 tape was underwhelming for the reasons quoted above.
The attention of Boutte as a prospect now is at an historically low point and this could for sure open up to interesting scenarios come draft time. Even though there still are concerns about his form and athleticism post-injury, what Boutte displayed towards the end of the season was encouraging. The Scouting Combine will probably be a make-or-break event for Boutte throughout the process, as it could confirm or overturn the doubts about his lack of athleticism and speed shown during his junior season.
If Kayshon Boutte's medicals turns out to be encouraging, I think he could easily turn out the be the most underrated prospect in the whole draft. Boutte is a modern pass catcher and chess piece who's as talented at creating yards after the catch as you'll see in a college prospect. He's an impact player at all three levels of the field who can also be utilized out of the backfield and both in the slot or on the outside.
Boutte's natural talent is impressive and when swinging for a "boom-or-bust prospect", because of the current doubts about his form, you want to bet on raw tools and talent, and I would certainly blindly bet on Boutte's natural talent. He has all the potential in this world to turn out to be a massive steal, especially if selected somewhere on Day 2.