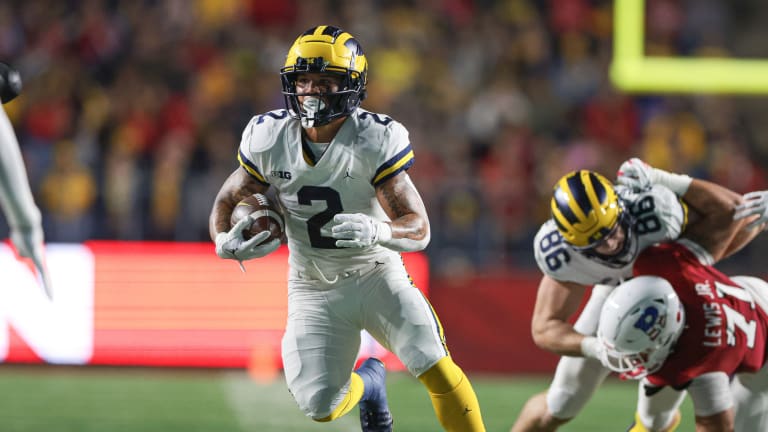 Fact or Fiction: Blake Corum Returning, Mack Brown on Tampering, Bret Bielema's Future
In today's Fact or Fiction, I look at three big recent topics in college football and decide whether the statement is indeed FACT or if it's FICTION.
---
1. Blake Corum will return next season.
Farrell's take: FACT
I think he does. The star RB is dealing with rehabbing a knee injury and his lack of size doesn't make him a high pick anyhow. So why not come back to Michigan with a huge NIL deal and make some life-changing money before trying the pros? It makes sense.
2. Mack Brown speaks for all of us about tampering.
Farrell's take: FACT
Before Pitt coach Pat Narduzzi got ridiculous and spoke out of turn about $5 million deals for a QB that isn't even on his team — Drake Maye of UNC — Mack Brown mentioned how teams had reached out to his QB. It was essentially a non-specific mention of the rampant tampering going on in college football and Brown, in his own classy way, spoke of how it's a real problem. While others have ranted and raved, Brown speaks for all of us. It's simply a problem and needs to be addressed.
3. Bret Bielema is still a stopgap Illinois coach
Farrell's take: FICTION
Okay, I was wrong. I said the Illini coach was hired to clean up the mess left by Lovie Smith as a stopgap hire before they could bring in a young, hotshot recruiter. Well, Bielema only went 8-4 this season and signed a long-term extension. I figured we had seen the Bielema show in the Big Ten before at a stronger program at Wisconsin but he would be out-recruited in the end as he was with the Badgers. But I forgot one thing — Bielema finds guys that fit his system and doesn't care about star rankings. And he wins. He's here for a while.