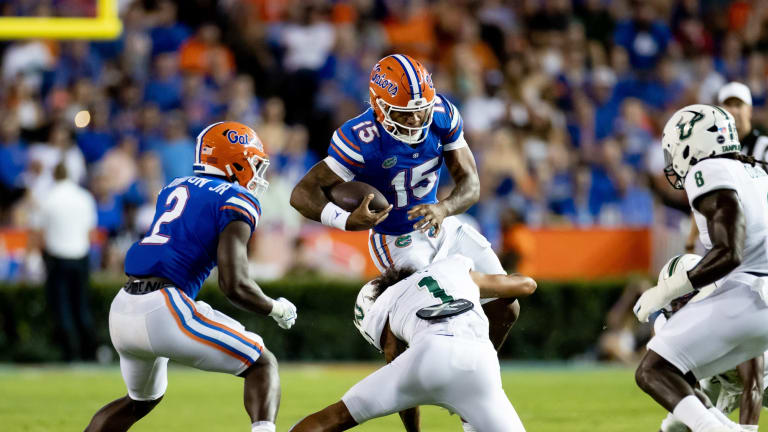 Fact or Fiction: Colorado, Anthony Richardson, Shane Beamer
In today's Fact or Fiction, I look at three big recent topics in college football and decide whether the statement is indeed FACT or if it's FICTION.
---
1. Karl Dorrell is next to be fired.
Farrell's take: FACT
When your athletic director comes out and expresses disappointment you know you're almost done. That's the case in Colorado as the Buffs are one of the worst Power Five teams in the country. Colorado AD Rick George felt compelled to come out and express his disappointment and concern over the Colorado football program after a 49-7 loss to Minnesota. The Buffs have now been destroyed by TCU, Air Force and Minnesota which isn't exactly an elite lineup. Dorrell is 4-13 in his last 17 games and he was an odd hire after Mel Tucker left for the Michigan State job. The pressure is on in Boulder and Dorell's buyout lessens after Dec. 1 but this won't last that long. The November slate of games includes four ranked teams. That won't go well.
---
2. We overacted to Anthony Richardson.
Farrell's take: FACT

I fell for it too so don't worry. When I saw Anthony Richardson play so well against a strong Utah I saw the ceiling we've all seen from the huge athletic QB. And I expected it to continue and get better. But I forgot one thing. Coaches watch film. And it's clear that Kentucky and USF saw plenty in the Utah game that allowed them to make Richardson uncomfortable. Make him beat you with his arm and bracket him in the run game and he looks very average. Actually he looks bad. I like Richardson and his ceiling intrigued me but he can go from looking like a possible No. 1 overall pick to an UDFA in the span of weeks.
---
3. Shane Beamer needed to apologize.
Farrell's take: FACT

It's the day and age we live in so Beamer had to apologize for being upset with the Title IX ceremony on the field of the Gamecocks loss to Georgia. If you missed it, Beamer was yelling and gesturing for the female athletes to get off the field as his team prepared for a 4th and 9 against the heavily favored Bulldogs. Beamer explained he had no idea they were female athletes or that it was a Title IX celebration and to me it seemed to be a heat of the moment issue. Beamer has been very supportive of female athletics throughout his career and has two daughters who play sports. Honestly an apology shouldn't even be needed but it has to be done and he did it well.