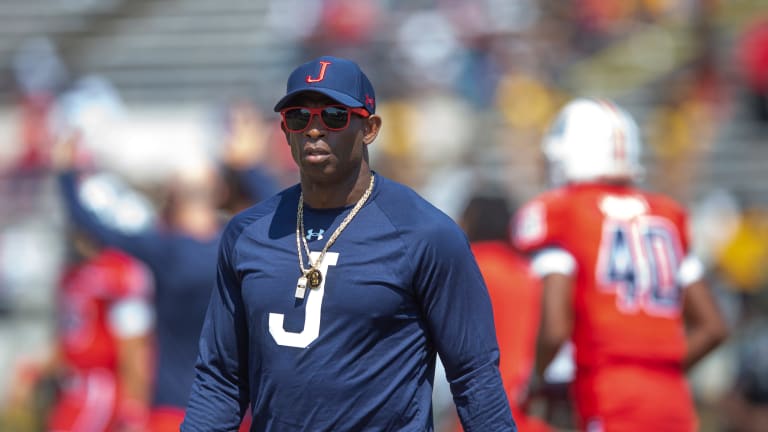 Fact or Fiction: Deion Sanders, Drake Maye, TCU Getting Screwed (Again)
In today's Fact or Fiction, I look at three big recent topics in college football and decide whether the statement is indeed FACT or if it's FICTION.
---
1. USF is the best place for Deion Sanders.
Farrell's take: FACT
Everyone feels Deion should jump from FCS to Power Five and should wait for the FSU job or take the Auburn or Georgia Tech job. And while this may be true we have no idea if these schools have interest. Why? We don't know if he can coach at a higher level. The USF job is tailor made for him from a recruiting and development standpoint and would be a great step up if he has success. I love the idea of Deion at Georgia Tech or FSU and all but would that be too big a leap?
2. Drake Maye needs more a Heisman buzz.
Farrell's take: FACT
The UNC QB is 4th in the nation in passing yards and has 31 touchdowns and only 3 picks and yet we don't hear his name much for the Heisman. I like Caleb Williams from USC right now followed by Blake Corum at Michigan but I have Maye in there with CJ Stroud, Bo Nix and Hendon Hooker in my next wave. He's been amazing.
3. TCU will get screwed again in college football playoff rankings.
Farrell's take: FACT
Just watch. Georgia will be No. 1 rightfully so but Ohio State and Michigan will be 2 and 3 despite worse resumes than the Horned Frogs. Tennessee will drop to No. 4 and stay in the hunt — rightfully so as well. I just think TCU should be in the top four ahead of Michigan, as their best win after Penn State is Maryland. At least the Ohio State win over Notre Dame is now looking a lot better for them. My order is UGA, Tennessee, TCU and Ohio State.