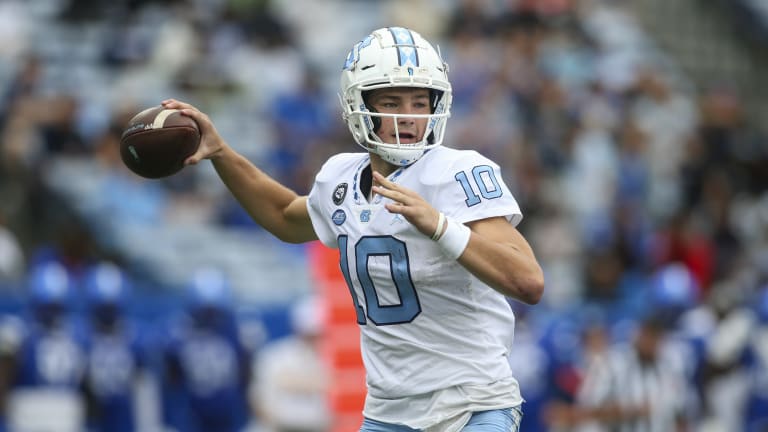 Fact or Fiction: Drake Maye, Bedlam, DJ Lagway
In today's Fact or Fiction, I look at three big recent topics in college football and decide whether the statement is indeed FACT or if it's FICTION.
---
1. Drake Maye needed to apologize.
Farrell's take: FICTION
I commented on the fact that Shane Beamer HAD to apologize because of his actions during the Title IX ceremony this past weekend even though he didn't know what was happening because that's a sensitive topic. But Maye apologize? Nah. The UNC QB talked about staying in state to play his college football and stated that those who chose NC State couldn't get into UNC. It was a shot at his rival and a joke but obviously he felt compelled to apologize because someone got offended. Ridiculous.
---
2. Bedlam coming to an end is a sign of things to come.
Farrell's take: FACT
Welcome to the new world of college football where TV money rules, realignment is back and long time rivalries will die. We saw it a little bit with Texas and Texas A&M when the Aggies went to the SEC and others smaller ones like Missouri and Kansas and even Maryland and Virginia. But now we are losing the biggest one yet with Oklahoma and Oklahoma State both concurring that their Bedlam rivalry ends when OU goes to the SEC in 2025. What's next? Stay tuned but we could lose Oregon and Oregon State, Washington and Washington State and many others soon enough.
---
3. Aggies are the team to beat for DJ Lagway.
Farrell's take: FACT
The 5-star QB in the 2024 class recently named his top 10, but I feel that two schools are standing out with Texas A&M on top. He's visited a few times this season, they are in desperate need of a marquee quarterback despite Connor Weigman, and the excitement around his potential and playing time is a major factor. NIL always plays a role as well and the Aggies have that in spades. He's not close to a decision as you can see by the top 10 but the Aggies are in good shape here. The other team? USC. Yes they have Malachi Nelson and could likely land Elijah Brown from Mater Dei but Lagway loved his visit to LA, the NIL opportunities are great there and that offense under Lincoln Riley is a great fit.