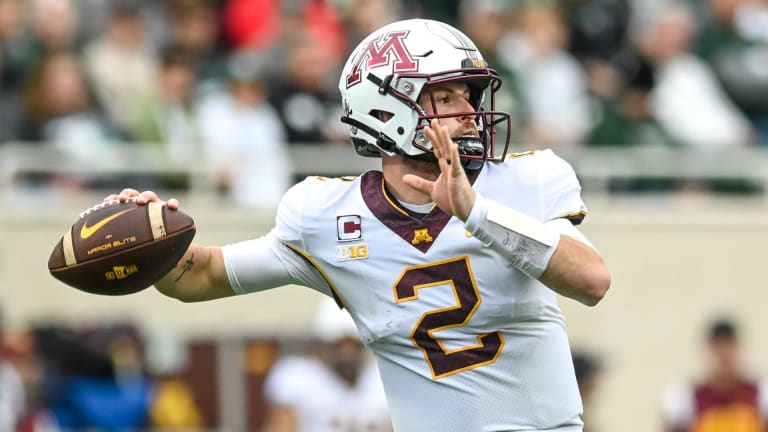 Fact or Fiction: Gophers, Tyler Van Dyke, Michigan
In today's Fact or Fiction, I look at three big recent topics in college football and decide whether the statement is indeed FACT or if it's FICTION.
---
1. The Gophers are the best team in the West.
Farrell's take: FACT
So far they are. I know it's early but Wisconsin has disappointed me greatly, Iowa has serious offensive issues and no one else has stepped up. Purdue and Illinois are on tap, and both are dangerous in different ways, but I expect them to be undefeated heading into a huge matchup with Penn State October 22. What's been the difference? Mo Ibrahim is back and PJ Fleck is amazing at recruiting big and physical offensive linemen and doesn't get the credit he deserves there. This team plays a physical brand of football.
---
2. Tyler Van Dyke is on transfer watch.
Farrell's take: FICTION
Let's pump the brakes a little bit here. Yes I love to overreact as well, it's the day and age we live in. But when I see Van Dyke and transfer rumors I think we need to pause here. Yes, Jake Garcia relieved him in a horrible loss to MTSU, but let's not write off Van Dyke yet. He's learning the new offense under Josh Gattis and it's clunky. But remember this was a kid who was supposed to leave early for the NFL Draft and not look for a new home. He will get other chances at Miami to turn it around.
---
3. Michigan is on upset alert this weekend.
Farrell's take: FACT
I know the Iowa offense is horrible. But this is at Kinnick and some crazy things happen at Iowa. On paper this doesn't look like a good matchup for Iowa, especially with Jestin Jacobs out for the season but this is a tough road game for a Michigan team that struggled with Maryland. I have Michigan winning but this could come down to a field goal.