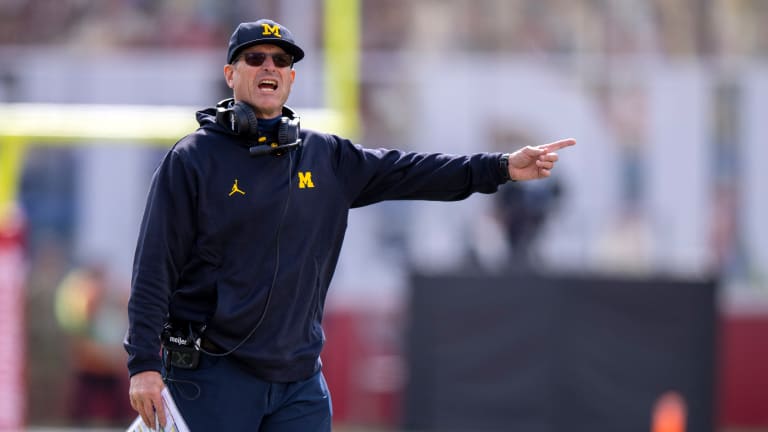 Fact or Fiction: Is Harbaugh Worth the Drama, Monken to the NFL, Next Ohio State QB
In today's Fact or Fiction, I look at three big recent topics in college football and decide whether the statement is indeed FACT or if it's FICTION.
---
1. Jim Harbaugh is worth all the drama.
Farrell's take: FACT
Coaches are being fired. Harbaugh continues to flirt with the NFL yearly. And the NCAA calls him a liar and he's battling with them. Is it all worth it to a program that has long avoided any sort of drama or controversy? Yep. He's the man for the job, the results show it and it will all be sorted out in the end. Remember Harbaugh flirted with the NFL last year and battled with OC Josh Gattis before he left and where did Michigan land? In the playoff. All will be fine.
2. Todd Monken will head to the NFL.
Farrell's take: FICTION
The NFL will come calling — and already has in some cases — but keep in mind, teams like the Buccaneers, Ravens, Chargers, and maybe the Bills will want an offensive mind like Monken. But I think he stays at UGA. He has a great thing going there and if he can put up with the NIL headache he has a chance for a third natty in a row. And that's sometimes more intriguing than the cutthroat NFL world.
3. Kyle McCord will be the Buckeyes' next QB.
Farrell's take: FACT
Devin Brown is promising and more mobile. But the Ohio State offense doesn't require that as we've seen from Dwayne Haskins and CJ Stroud and McCord has the better arm and better accuracy. This will be a battle in the spring and likely into the fall but feel free to take any futures bets on McCord and his Heisman chances if you like that kind of thing. He will be the next man up.