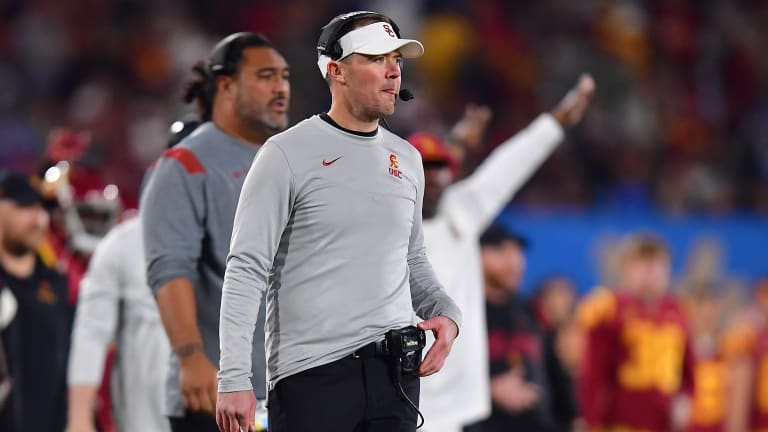 Fact or Fiction: Lincoln Riley, Auburn or Ole Miss, Clemson in the CFP
In today's Fact or Fiction, I look at three big recent topics in college football and decide whether the statement is indeed FACT or if it's FICTION.

---
1. Lincoln Riley is worth the price.
Farrell's take: FACT
Sorry Oklahoma fans but you're wrong. As hurt as you are you have to admit that Riley is a great coach. Yes you can whine all you want about him taking Caleb Williams with him and buying Jordan Addison but it doesn't matter. This was a 4-8 team last year that was soft in the trenches and lacked an offensive identity and now they are 10-1 with a chance at the playoff. He's worth whatever outrageous salary he landed when he was lured away from Oklahoma ($10 million a year is the estimated number) and USC is back in the top five for the first time since 2017.
2. Auburn is a better job than Ole Miss.
Farrell's take: FACT
But this isn't as easy as people think. While Auburn has the edge in NIL and recruiting territory, anyone who takes that job risks being run out of town like they did to Bryan Harsin and has to deal with boosters and old money that no one seems willing to stand up to. Assurances will be given to the next head coach. Heck they were given to Harsin but in the end if you fall out of favor you won't get a ton of support. Ole Miss isn't great but it has that going for it as we talk about Lane Kiffin and his next move.
3. A two loss SEC team gets in over Clemson.
Farrell's take: FACT
This is easy to say if it's LSU but what about Alabama? The problem for Clemson is they have unranked South Carolina and a sliding UNC team down to No. 19 in the AP after a loss to Georgia Tech. I expect Clemson to be behind Alabama on Tuesday night when the playoff rankings come out despite being ahead of them in the AP poll and I am not sure the committee has the guts to push Clemson ahead of Alabama even with 'Bama closing out their season against an awful Auburn team and Clemson potentially winning the ACC. Right now it looks like the SEC will get one team in as Georgia is a huge favorite to beat LSU for the SEC title. But just watch. The SEC has the power to get two in even ahead of a one loss Big Ten runner up or a one loss ACC winner.