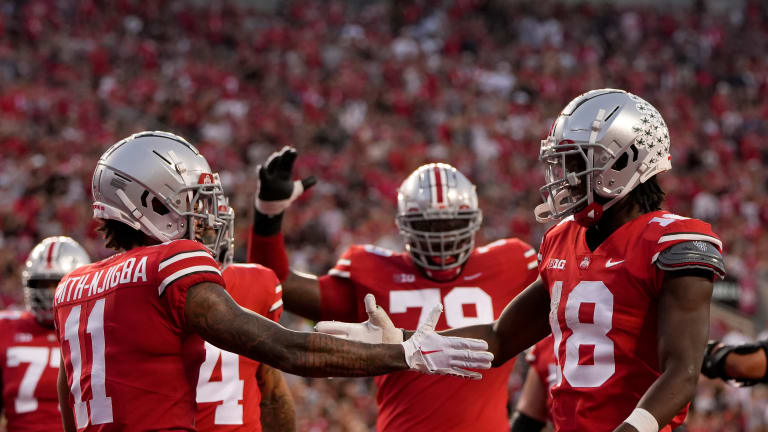 Fact or Fiction: Michigan-Ohio State, LSU 3rd Loss Potential, Louisville's Future
In today's Fact or Fiction, I look at three big recent topics in college football and decide whether the statement is indeed FACT or if it's FICTION.
---
1. Michigan or Ohio State can get tripped up before the big game.
Farrell's take: FACT
You're going to call me an idiot, and that's fine, I'm used to it. But I've been around college football far too long just to think this will be a pseudo-playoff/elimination game of two undefeated teams. That's just too good to be true. But who the heck would they lose to? It won't happen this weekend as Michigan gets an awful Nebraska team and Ohio State's backups can sleep walk to a win over Indiana. But after that? In trap games where the teams could be looking ahead to the rivalry game? Ohio State is at Maryland and they will likely be favored by 17 or so and Michigan will be favored by 10 or so at home against Illinois and it wouldn't stun me to see one falter. I'm just saying, it's possible.
2. LSU loses a third game.
Farrell's take: FACT
Brian Kelly has done an amazing job as he took a depleted roster, added to it through recruiting and the portal and has the Tigers controlling their own destiny in the SEC West. But they will lose a third game. It won't be UAB and it won't be Texas A&M but it could be this weekend against Arkansas. And if not it will certainly be to Georgia in the SEC title game. Jayden Daniels is great but they are way too reliant on him to win games and a team that can hem him in and force him to throw can beat them. Arkansas has a chance to do that and Georgia most certainly will.
3. Louisville is the sleeping giant in the ACC.
Farrell's take: FACT
UNC has long been labeled the sleeping giant of the conference and they've done well under Mack Brown this season and a couple of seasons ago. But with NIL and the way Scott Satterfield has been recruiting, watch out for the Cardinals. They have NIL money, they now have Pierce Clarkson and his pops to sell west coast football to players and they have great recruiting presence in Florida thanks to Coach John 'Hova' Herron who came over from Florida and has done wonders as an off field coach. Watch out for the Cards.