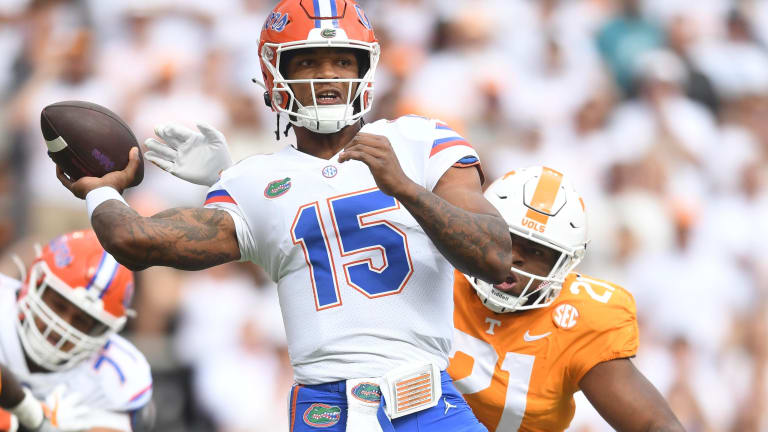 Fact or Fiction: Michigan Scheduling, Kedon Slovis, Anthony Richardson
In today's Fact or Fiction, I look at three big recent topics in college football and decide whether the statement is indeed FACT or if it's FICTION.

---
1. Michigan screwed themselves in scheduling.
Farrell's take: FACT
The Wolverines ducked competition let's be honest. They dumped Virginia Tech and UCLA so they could have seven home games this season and pad Jim Harbaugh's record back when he was struggling in 2018 and 2019 (when these decisions were made). Now in their defense, no one really expected a playoff run in 2021 and this much success in 2022 but it could come back to bite them. The playoff committee is not impressed with Colorado State, UConn and Hawaii. And no one should be. Michigan's best win is Penn State and after that it's Maryland. At least Ohio State has Notre Dame. Michigan wins and they are in but one loss and they are done. And it's their own fault if that happens.
2. Kedon Slovis will return to Pitt for 2023.
Farrell's take: FACT
Slovis has been a major disappointment at Pitt and could transfer out and try to find yet another home but where is he going to find a better situation? He'd be in year two of this offense and Pitt doesn't have much behind him so my assumption is he's going to return and start and hope to have a breakout year next season similar to QBs at Pitt in recent memory. I don't see a Kenny Pickett emergence at all, but Nathan Peterman? Why not?
3. Anthony Richardson needs to return to Florida.
Farrell's take: FICTION
This isn't a Tyler Van Dyke situation where he would be forced to return to save his NFL Draft status but to me Richardson should return to Gainesville to polish his accuracy and ability to read defenses. But he doesn't have to — at all. For some reason everyone still has Richardson as a first round pick and some have him in the Top 10. It's puzzling to me but his size and athletic ability have the NFL scouts enamored enough for him to at least be a late flier in round one a la Lamar Jackson years ago. His upside is too high apparently to most. But this is still a guy who has 11 touchdowns and 7 picks this season. But what do I know? He's got first round money waiting so he should head off to the NFL.