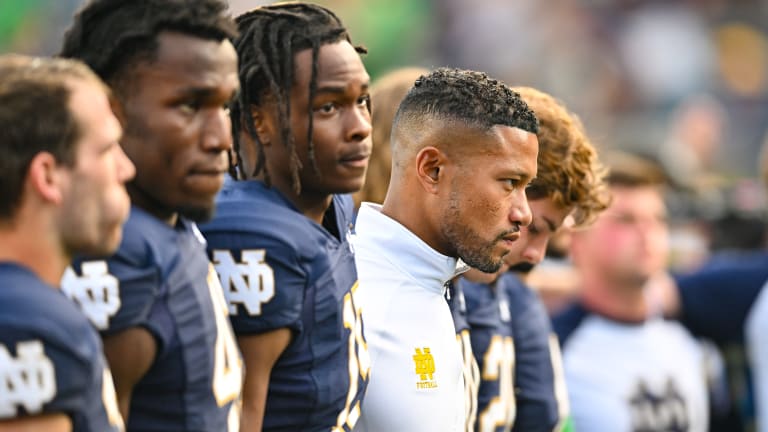 Fact or Fiction: Notre Dame, Nebraska, Texas A&M
In today's Fact or Fiction, I look at three big recent topics in college football and decide whether the statement is indeed FACT or if it's FICTION.
---
Notre Dame will go 6-6.
Farrell's take: FACT
Wow I didn't like what I saw from Notre Dame against Marshall. The offense was horrible, there are very few playmakers and the defense was gashed. Now I look at the schedule and a few games look a lot harder than they did a week ago. BYU is good, very good. USC is better than I expected this early and Syracuse and UNC look good in different ways. Many of us expected losses to Ohio State and Clemson but there could be four more losses in there as well.

---
Nebraska should have waited to fire Frost.
Farrell's take: FACT
The difference between firing him after Oct. 1 and on Sept. 11 is $7.5 million. And it's kind of irresponsible of athletic director Trev Alberts and the powers that be at Nebraska to pull the trigger now. Of course they want a change and want to give the players and fans some hope, but I completely expected there to be a buyout negotiation between Nebraska and Frost if this was to be done early. So when Alberts said that Frost will get his full $15 million I was stunned. The Big Ten TV contract is massive and all and Nebraska isn't hurting for money but waiting a few weeks to save that money just seemed to make more sense. The fear? Frost would somehow upset Oklahoma and the timing would be tough.
---
Aggies recruiting will dip.
Farrell's take: FACT
Brady Quinn said a couple of months ago that Texas A&M recruiting was dipping because of Nick Saban calling out Jimbo Fisher for paying players. If was dumb and uninformed. Since then the Aggies have added numerous four star prospects including LB Anthony Hill, CB Bravion Rogers and OL Chase Bisnotis and TJ Shanahan. Saban's comments were out of line and not accurate as the hard work of the staff led to the No. 1 class with NIL a part of it. But now? Recruiting could slow down for sure with the loss to Appalachian State, a tough schedule ahead and the national media as critical of Jimbo Fisher as they have been in ages. This is an important stretch for Texas A&M on the field and could determine how this 2023 class closes.