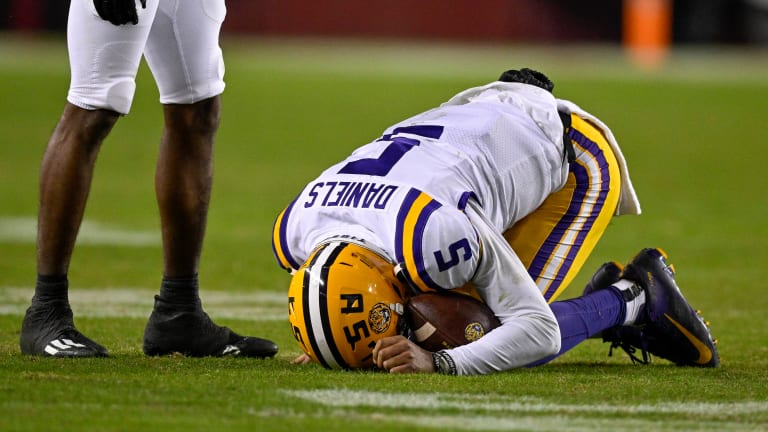 Fact or Fiction: Overrated LSU, Jimbo Fisher, Ryan Day
In today's Fact or Fiction, I look at three big recent topics in college football and decide whether the statement is indeed FACT or if it's FICTION.
---
1. LSU was overrated.
Farrell's take: FACT
I didn't expect this honestly. I actually thought LSU might be one of the top three teams in the country heading into the Texas A&M game. But I was wrong. They are clearly too one-dimensional and rely upon Jayden Daniels to save them on offense too much. And I thought they were a much more physical defense than we saw. A Texas A&M team with nothing to play for bullied LSU around the field in a stunning upset and this Tigers team was exposed. Brian Kelly has done a great job this season by assembling a competitive roster from the portal but they are just not there yet.
2. Jimbo has lost this Aggies team.
Farrell's take: FICTION
I thought he had lost them. I had heard talk of a mass exodus to the portal, players making fun of Jimbo behind his back, and a lack of respect from his roster. And maybe some of that is true or will happen. But what I saw Saturday night was a team that played hard, enjoyed themselves, and just gave an unbelievable effort. Maybe it was a fluke but this team looked like it was playing for each other and for their coach. I didn't expect that.
3. Ryan Day is under pressure.
Farrell's take: FACT
Seems odd right? Ryan Day is 45-5 as the Ohio State coach and 31-2 in conference. And I can name every loss. And that means he's been good, very good. But those two playoff losses to Clemson and Alabama, a head-scratcher at home to Oregon, and the biggest issue — two straight losses to Michigan. And as a result, Day is under pressure — a lot of it. He won't be fired unless somehow Mike Vrabel wants to come to college and coach his alma mater. And that's not going to happen. But when you lose in historic fashion — like the first loss at home to Michigan since 2000 and the first back-to-back losses to the Wolverines since 1999 and 2000 — people get upset. Very upset. The funny part is that Ohio State can still make the playoff with some help but the fans don't seem to care. You don't lose to Michigan twice in a row. You don't let Michigan go for the playoff over you two years in a row. And you don't let people think Jim Harbaugh is a much better coach than you. And all of that has happened. Ohio State recruiting is off the charts good and they will win 10 or 11 again next season. But if he loses to Michigan a third time in a row? That's getting ahead of myself but trust me I'm not the only one thinking about this.