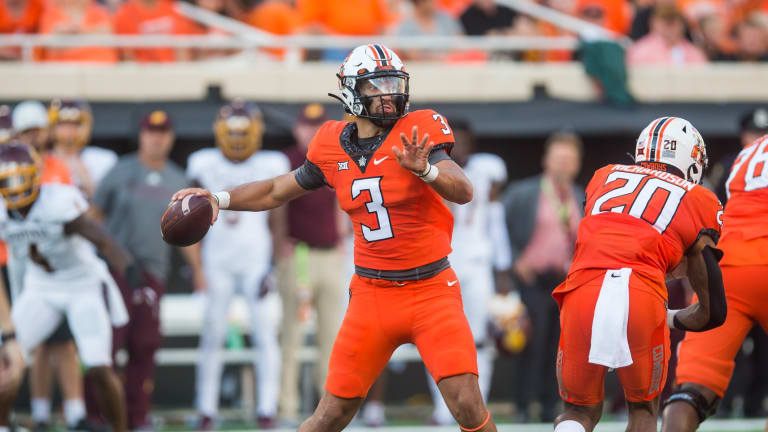 Fact or Fiction: Overthinking Coaches, James Franklin, Spencer Sanders
In today's Fact or Fiction, I look at three big recent topics in college football and decide whether the statement is indeed FACT or if it's FICTION.
---
Coaches outthink themselves more than ever before.
Farrell's take: FACT
Maybe it's the pressure with coaches being fired quicker than ever. Or maybe it's overthinking or simply narcissism. Or maybe it's just stupidity. But the college football season has barely begun and we've seen Scott Frost with a dumb onsides kick and now West Virginia head coach Neal Brown punting on 4th and 1 in a crucial situation when his team was averaging nearly 10 yards a carry. This was on the Pitt 48 yard line and up by a score (31-24). Brown's punt was downed inside the 8-yard line but Pitt marched down the field 92 yards to tie the game and the rest is history — a 38-31 loss. With six minutes left in the game he had a chance to put his foot on the throat of Pitt and crush them and he wimped out. Meanwhile Frost became overly aggressive and put his team in a bad position. There's a reason I had each coach last in their respective conferences heading into the season.

---
James Franklin was right
Farrell's take: FACT
I often criticize coaches so when they make the smart choice I should praise them as well. After Sean Clifford threw a horrible pick six to allow Purdue to take a 31-28 lead in the fourth quarter. And let's be real — every Penn State fan was like "here we go again". Fans clamored for freshman Drew Allar and railed on Franklin and his loyalty to Clifford that led Kentucky starter Will Levis to transfer and had Penn State 11-11 in the last two seasons. But Franklin knows more than we do. He stuck with Clifford, the veteran QB led PSU to an 80-yard drive for the winning score with under a minute left and PSU is 1-0. It's easy to call for the backup over and over again but it's not always the right call.
---
Spencer Sanders is under appreciated
Farrell's take: FACT
He is by me anyhow as I had him No. 38 in the country behind untested players like Quinn Ewers and disappointments like DJ Uiagalelei. What did he do in the opener? He became only the second player in Big 12 history with 300 yards, 3 passing TDs and 2 rushing TDs in a half of football. The other? Patrick Mahomes. I'm sorry Spencer.