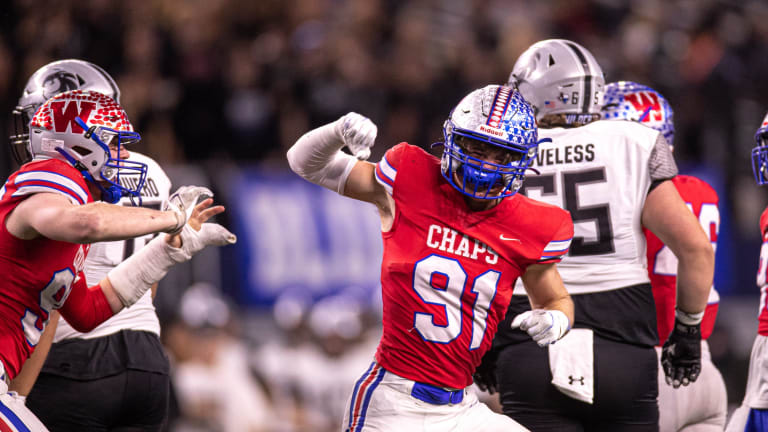 Fact or Fiction — Recruiting Edition: Colton Vasek, Desmond Ricks, Alabama Woes
In today's Fact or Fiction— Recruiting Edition — I look at three big recent topics from the recruiting trail and decide whether the statement is indeed FACT or if it's FICTION.
---
1. Colton Vasek flipping to Texas is a bad sign for OU.
Farrell's take: FACT
Vasek is a good player. I'm not sure he's elite or franchise or any of all of that but he's very good and was an important get for Oklahoma in this class. His flip to Texas is indicative of the changing momentum for each team in 2023 and 2024 as they begin to head to and sell the SEC. The Longhorns are hot on the trail with the momentum from this season and the continued ability to sell Arch Manning which, believe it or not, affects the defensive efforts as well. Oklahoma's rough season as them headed in the wrong direction. Recruiting is still solid but they've lost momentum with commits like Vasek and players like Peyton Bowen who was thought to be a lock to flip from Notre Dame to the Sooners in the summer and is now visiting Texas this weekend.
2. LSU leads for DB Desmond Ricks.
Farrell's take: FACT
Alabama is hard to beat but Ricks was in Baton Rouge this past weekend to see LSU take care of the Crimson Tide and they have great momentum here. He reclassified to 2023 so he can make an early impact and both sides can sell playing time. A sleeper? Florida who has DB coach Corey Raymond who is one of the best recruiters in the country. But for me, I think LSU has the edge for now.
3. Alabama is fading on the recruiting trail.
Farrell's take: FICTION
Nah, no need to worry Alabama fans. They could still easily finish with the No. 1 class in 2023 and they are in the final mix for a ton of elite players like Ricks. Two losses doesn't change the fact that they are still the place to play for a first round grade and a national title and they will undoubtedly finish in the top five. Oh and 2024 is going well also with a recent commit from five star QB Julian Sayin.